VERSACE MENSWEAR
• FALL/WINTER 2016
August 24, 2016

34,909
It's written in the stars – this is the universe of Versace.
Astronomy, astrology, man in space: a wardrobe from the heavens for the Versace man today. Fiber optic tracksuits are like the future now, while light-up sweatshirts have piping as if from astronaut suits.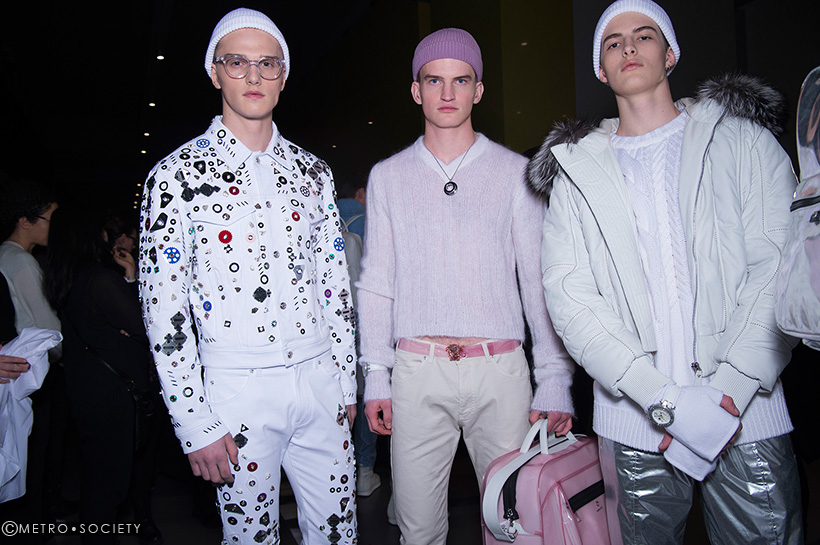 Sleek tailoring and space-age metallic trenches are worn over white roll necks, while Prince of Wales suits are embellished with eyelets and grommets. Unlined coats in double-faced raw-edged cashmere are the grey of the moon, the ultimate when worn with cashmere joggers.
An iconic Versace astrological print is reworked and revitalized, while a star map Medusa print has been newly developed and looks perfect on jeans.Tracksuits are the essential of tomorrow, whether its merino wool zip-ups with a zig-zag at the neck, or drawstring track pants enriched with embellishments. MA1 flying jackets have astronaut attitude, while outerwear is embellished as if with space debris, and shearling collar denim jackets are like a space uniform.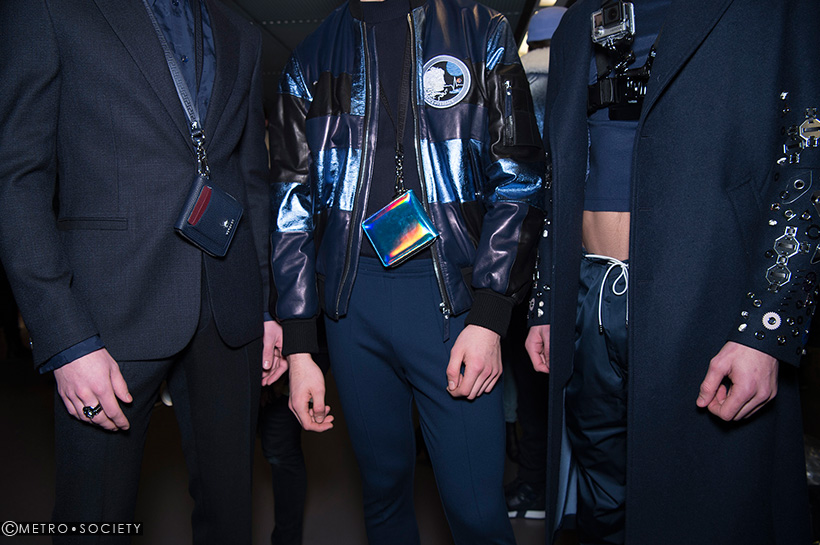 Colors and fabrics refer to the galaxies, whether its metallic leather zip-ups in Neptune blue, double-breasted coats the beige of moonstone, and tweeds like the Milky Way. Cropped leather jackets are embroidered with patches like an astronaut's mementos, while lapel badges on coats and suits are like the emblem of a spaceship. Crystals decorate denim jackets and jeans like a constellation of stars.
Lace-ups have chunky soles but no instep, as if cut away, while trainers are like tech cycling boots. Bags come with their own protective covering. The new V-Race Driver watch makes its debut, with a special catwalk edition with a mother-of-pearl dial as if for the surface of the moon.
"The Versace man is a pioneer, his ambition as big as the universe. This is a collection for men who are totally real, totally bold and totally connected with the future." Donatella Versace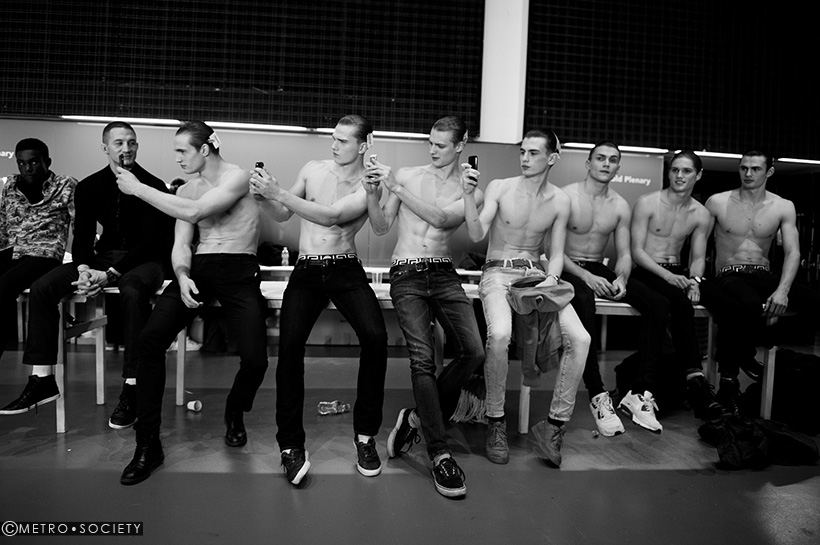 Stylist: David Bradshaw
Hair: Guido Palau
Make Up: Pat McGrath
Music: Simon Halsberghe
Fibre optic fabrics powered by DreamLux
---
1 of 16

2 of 16

3 of 16

4 of 16

5 of 16

6 of 16

7 of 16

8 of 16

9 of 16

10 of 16

11 of 16

12 of 16

13 of 16

14 of 16

15 of 16

16 of 16