LACOSTE
• Spring/Summer 2016
July 7, 2016

24,691
FLAGS AND AIRCRAFT LACOSTE Artistic Director Felipe Oliveira Baptista turned the ballet of national flags into a strong graphic statement. Cuts have been dictated by the geometry of banners – lines, triangles, lozenges, the horizontal Y of South Africa.
Primary colors – the blue, white and red shared by the flags of France, USA, England and Russia – but also the yellow and sky blue of Sweden, resonate in the collection's color palette. Just as sculptor John Angus Chamberlain compressed car pieces, Oliveira Baptista creates a print from pieces of broken flags reassembled. By keeping only the abstract symbolism of the flag, he offers an ensemble of new mini patterns that is reminiscent of the Memphis movement.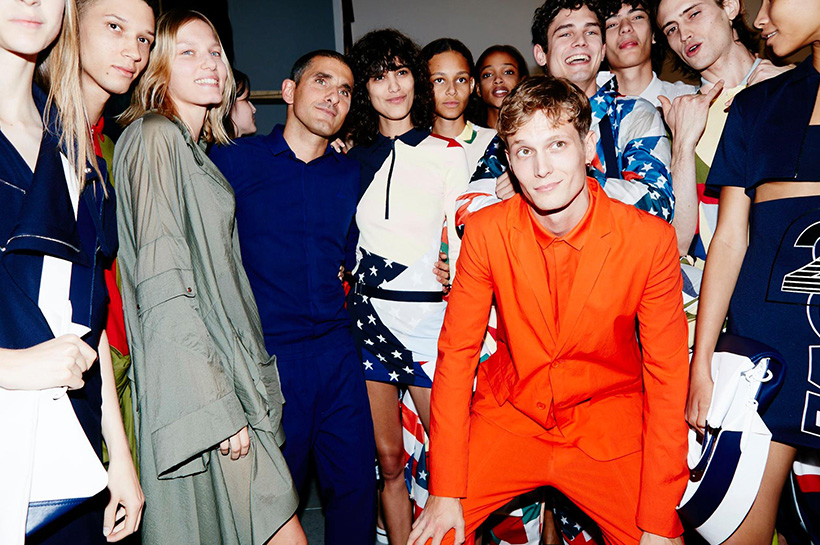 Flags are entwined as a symbol of the values of universality and diversity cherished by LACOSTE. The collection is punctuated with aeronautical references close to the graphic intelligence of Oliveira Baptista: his father was a pilot, hence his particular interest in aviation and aircraft branding.
HIGHLIGHTING THE BODY Rio, the next Olympic destination, is familiar to the designer, who enjoys its energy and its idea of body consciousness. The athletic body is highlighted with tension elastic bands inspired by 80's gymnastic vests, which echo city and stadium signal lines. Buckled ink, rubber facings over zips and parachute straps and belts are featured throughout the collection. Straps keep floating nylon close to the body and ribbed trimmings subtly hold together cotton piqué, knits and jerseys.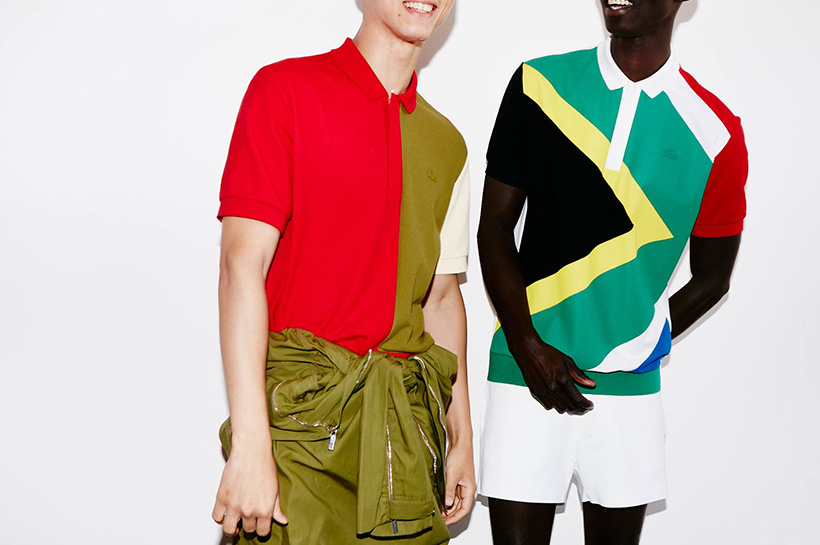 A LIGHT AND COMFORTABLE AESTHETIC The poetic image of victorious athletes wrapped in their flags to tour the stadium after the race injects a glorious attitude that inspires ponchos and coats with large prints. Flags mixed with one another create an exclusive camouflage. Inspired by British artist Lucy Orta's "Refuge Wear", Oliveira Baptista plays with the luxurious and the functional using the silver finish of emergency blankets to craft urban and evening outfits.
Fragile and ephemeral-looking, a paper-like Japanese crêpe cotton is used to make lightweight suit jackets. Parachute nylon is used for an army green floating safari dress.
MODULAR CLOTHING Each season, Oliveira Baptista has emphasized the functionality of a garment, making it reversible, modular and versatile. Every piece can find a new purpose in the blink of an eye.
The austerity of a mastic-colored bomber jacket is softened by a vibrant inside lining covered with patch pockets. An aviator jumpsuit unzips to become an ample coat. A dress, once fastened at the waist, shifts shape. Trench coats and nylon windbreakers are worn in the rain or as a cape with shoulder straps.
ACCESSORIES Also modular, the two-toned double-fabric L.12.12 bag, a tribute to the famous LACOSTE polo shirt, comes in three sizes for women and one large size for men. This chic tote becomes a handbag when folded.
Created in 1963 and worn by René Lacoste himself, the René sneaker made it to the city several seasons ago. For the summer, it comes back for women with a white wedge that contrasts the subtle monochrome color palette of the upper, while keeping its iconic authen- ticity for men. The LS.12 for men, created to trek every surface, is available in a superb array of white, beige, mastic, navy and army green plain leather and features innovative inside-out stitching.
RELAXED ELEGANCE The collection offers a new version of chic. Outfits are worn without boundaries between sport and city, day and evening, weekday and weekend. They privilege creativity and inventiveness to cater to all contemporary lifestyles with relaxed elegance.