ALEXANDER WANG
• Spring/Summer 2016
July 7, 2016

32,146
INSPIRATION:
Alexander Wang's Spring 2016 menswear collection takes municipal uniforms as a starting point, and refines and elevates these stereotypical blue-collar influences. The collection further explores an ironic play between sponsorship branding and anonymity. Immediate references are apparent through menswear staples executed in juxtaposing fabrics and textures, while wardrobe essentials are updated through clean silhouettes and tailoring details.

Throughout the collection, standard-issue garments are tweaked and re-contextualized. The patch pocket convertible jacket and the "M-51" fishtail parka are made from an unusual, sculptural Japanese compact tech knit, where the fabric density and unique peached finish interpret an ultra suede feel, bestowing volume and a luxurious hand. A rich jersey bonded suede gives the M-51 fishtail parka a more fluid, refined option.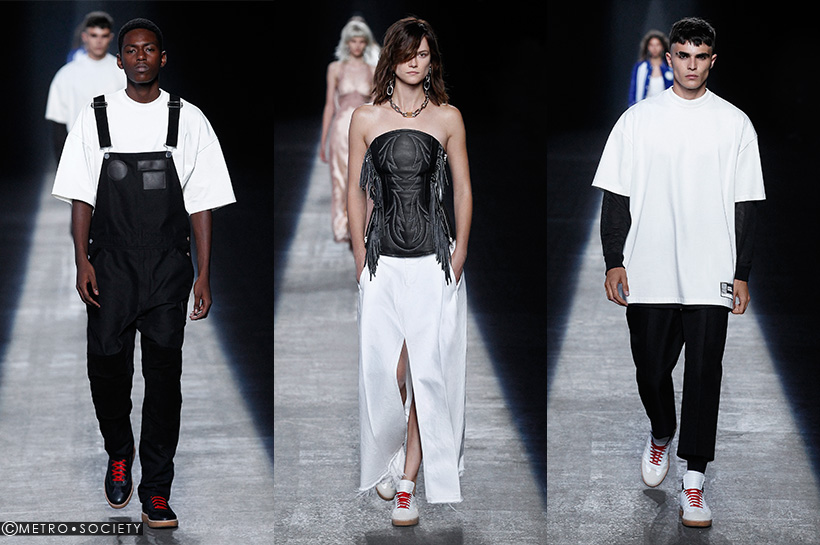 Classic, all-American workwear, such as a mechanic-inspired coverall is elevated in a light cotton twill adorned with painted-edge vegetable leather patches. Cavalry twill is reinforced with split suede and textured with selffabric patch details, appearing in overalls, a padded aviator bomber jacket, pegged cargo pants and shorts. "Mechanic" influences are seen in intricately topstitched geometric self-fabric patches reminiscent of name patches on utility uniforms and Formula 1 pit coveralls. A fitted moto leather jacket also references a Formula 1 jacket with sponsorship patches. In Wang's collection these patches are in solid colors, either tonal or colorblocked to the garment, going back to the play between branding and anonymity.

The dapper becomes utilitarian as a trench coat and an engineered creased trouser and short are made with resin coated cotton twill. In contrary, a classic denim jacket style is hand stitched in splittable wool or shown in reversible leather and suede. A new "X" embossed leather patch detail appears on tailored five pocket trousers and skate shorts.
An unexpected eveningwear feel is introduced with a "MA-1" tuxedo flight bomber jacket and a tuxedo tearaway short appearing in a lux, high gloss duchesse satin. Athletic sportswear meets traditional tailoring through board shorts and a track jacket engineered in Italian summer wool suiting.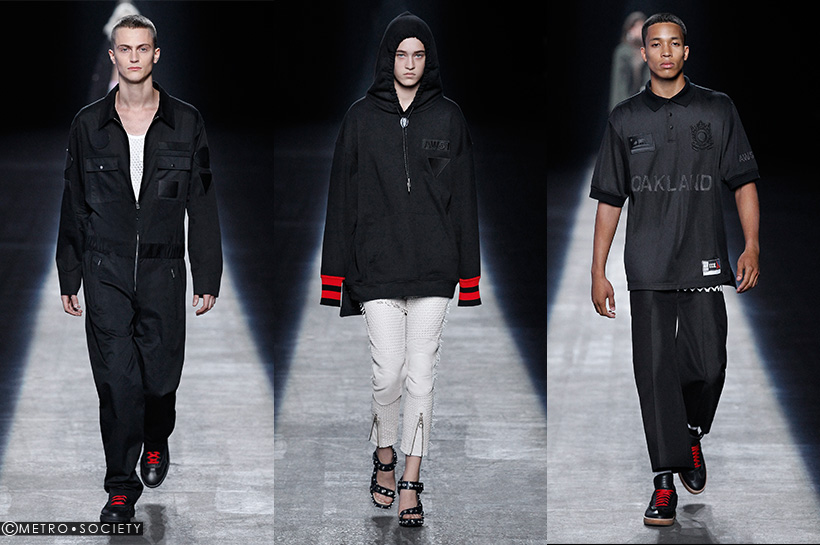 A play on branding and print motifs is apparent in the Alexander Wang barcode logo, mixed media elements and custom applications this season. Mixed surface texture techniques are applied to garments, such as heatbonded framis with high gloss and matte finishing, 3D welded rubber and bonded in patches. A custom QR code enables customers to scan and link to alexanderwang.com directly; both printed and debossed QR codes can be scanned with any mobile device.
COLORS: Tank, exhaust, petrol, midnight, khaki, lucifer, matrix
FABRICS: Japanese tech knit with peached finish, jersey bonded suede, high gloss duchesse satin, summer wool suiting, cotton twill, paperweight suede, calfskin leather, oil suede, reversible suede and nappa leather and splittable wool.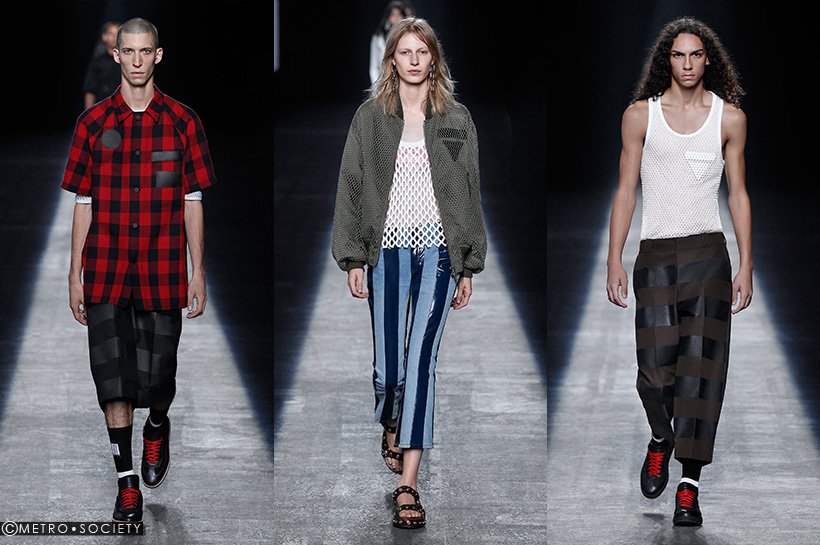 ACCESSORIES:
Tool bag-inspired patch pocket details provide functionality and organization for everyday essentials. New styles, such as the Mason weekender, Mason backpack and Mason pouch with minimal embellishments and contrast stitching create refined, unassuming shapes. The Mason pouch further features a pocket to hold items such as a lighter, as well as the dog key ring clasp detail. Definitive in structure, the bags combine ease and functionality with soft bovine and canvas bodies juxtaposed with dense suede or leather patches. Heavy topstitching, tool belt closures and delicate metal rivet studwork marries the industrial with the refined.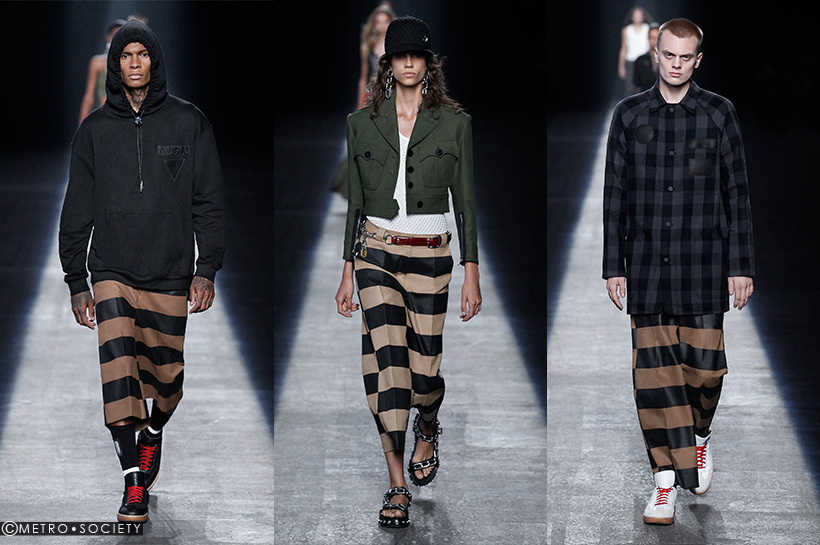 Athletic wear is a main focus for footwear through deconstructed leather paneling and heavy top stich details to create the Eden low lace-up sneaker and the Eden high lace-up boot.
Alexander Wang Menswear Spring 2016 collection will be available in March 2016 at

2nd Floor Erawan Bangkok Tel. 02-250-7752

M Floor The EmQuartier Shopping Complex Tel. 02-021-2198