Gucci Cosmos Exhibition
May 17, 2023

2,718
Gucci is proud to present Gucci Cosmos, a cutting-edge exhibition of the House's most iconic designs from its 102-year history. Opening in Shanghai in April 2023, this playful and immersive voyage that spirals backwards and forwards through decades is both a love letter to Gucci's Florentine roots and a paean to its enduring creativity.
Gucci Cosmos explores how for over a century Gucci's abiding codes and spirit have been brought to life in its most iconic designs, and how these era-defining classics have forever inspired and been reinterpreted by the House's design visionaries. The exhibition showcases how this progressive belief in the power of creativity, anchored in the finest Italian craftsmanship and tradition, has seen Gucci not only mirror the times, but also define them – in doing so, advancing society and its aesthetic tastes.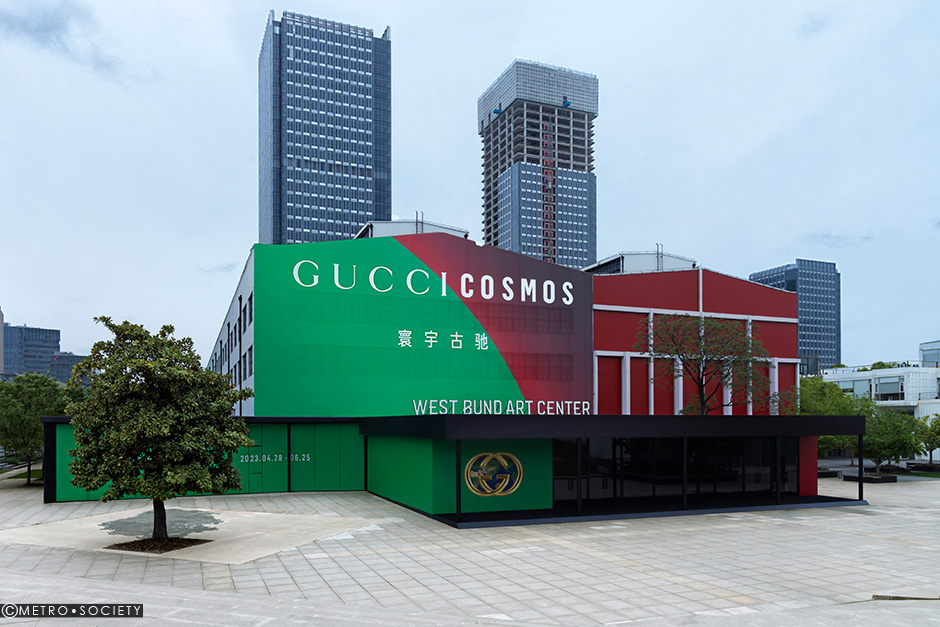 Conceived and designed by renowned British contemporary artist Es Devlin and curated by eminent Italian fashion theorist and critic Maria Luisa Frisa, this playful voyage through Gucci's past, present and future is experienced across eight exhibition 'worlds' that draw together treasures – many previously unseen – from the Gucci Archive, a living and breathing repository and working hub for the House's creative teams, housed in the 15th-century Palazzo Settimanni in Florence. Each world traces a different aspect of Gucci, its unwavering principles since its foundation in 1921, and its ever-renewed inspirations and creativity – from the nascent ambitions of founder Guccio Gucci to the pioneering spirit of his sons Aldo and Rodolfo, and the wildly imaginative powers of more recent creative directors Tom Ford, Frida Giannini, and Alessandro Michele.
Es Devlin, creator of acclaimed installations for prestigious cultural institutions and performances for global recording artists, has fused innovative audio, visual and kinetic technology within Gucci Cosmos. Seen from above, the layout of her luminous installation resembles a series of cogs and wheels, a subtle nod to the industrial heritage of the building in Shanghai where the exhibition first opens, evoking the city's long history of commercial and cultural exchange between Europe and Asia. Taking the visual metaphor of orbits within the cosmos, the exhibition conveys the timelessness of Gucci's visionary ethos and how its gravitational pull creates and shifts meaningful dialogues and myriad correspondences between the House's iconic designs, its creatives and artisans, and society at large.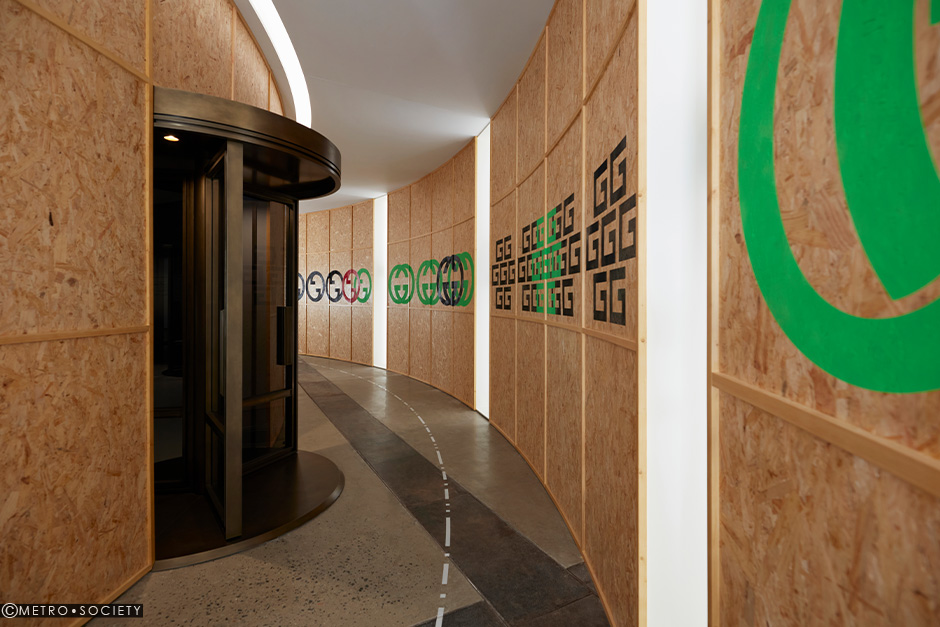 Portals
The first of Gucci Cosmos's eight worlds, 'Portals', tells the story of the House's founding father, Guccio Gucci and the continuing resonances for the House of his time as a young man working as a porter at The Savoy hotel in London. Entered through revolving doors – a nod to the hotel's entrance – 'Portals' features three moving, circular carousels carrying examples of Gucci's most exquisite luggage designs that tell intertwined creative stories across the decades. These include one of the earliest signature suitcases designed by Guccio in the late 1920s, a case featuring a distinctive GG-print canvas created by Aldo Gucci in the 1960s as an homage to his father, and Disney-print luggage from the Epilogue collection, designed in 2020 by Alessandro Michele as a sophisticated pop-culture remix.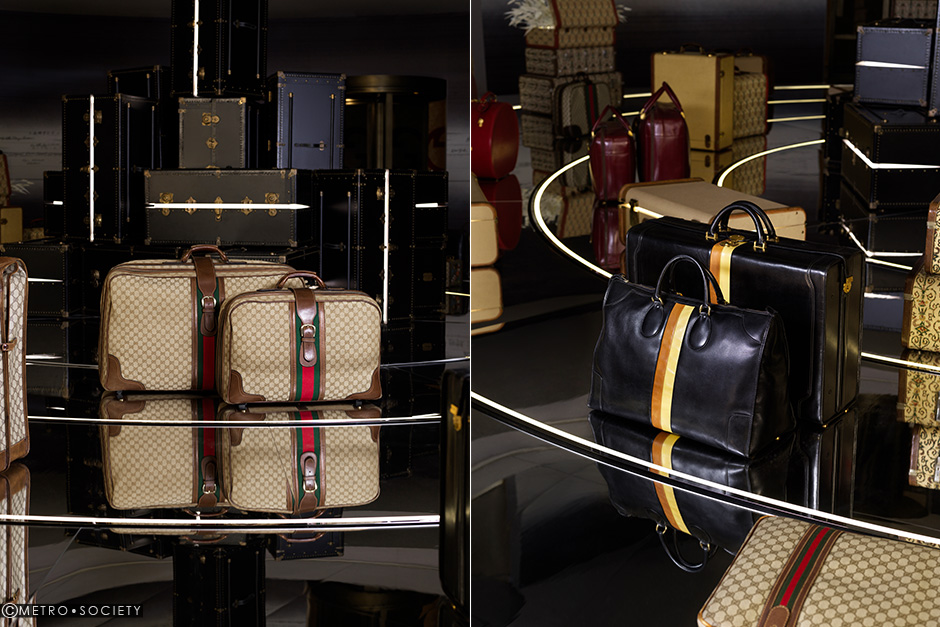 'Portals', with its rotating displays in constant motion, encapsulates the interchange of design knowledge, ideas and inspirations between the different creative directors, highlighting how each has tapped into the soul of the House in order to rework it and reveal its essential modernity. The outer ring also features eight multimedia dioramas inspired by cultural icons from Gucci's past and present including Jacqueline Kennedy Onassis, Princess Grace of Monaco, Diana, Princess of Wales, and Global Brand Ambassadors Chris Lee, Ni Ni, Lu Han, and Xiao Zhan as well as an homage to the cinematic city of Rome and its ability to captivate the international jet set and Hollywood stars alike.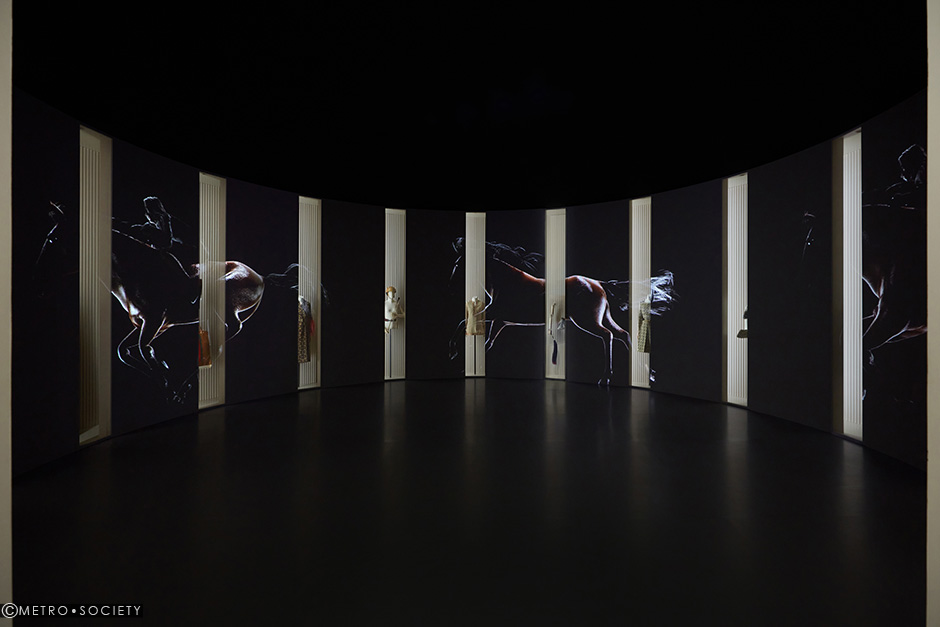 Zoetrope
Gucci has long drawn inspiration from the equestrian world, a connection celebrated in the Gucci Cosmos 'Zoetrope' with its circular space punctuated with immersive large-format screens presenting evocative video footage accompanied by a rhythmic soundscape of galloping and a voiceover that recites horse-riding-inspired words to the beat. Multiple archival pieces demonstrate how the House's equestrian icons – such as the Horsebit, invented by Aldo Gucci in 1953, and the iconic green-red-green Web stripe, inspired by the strap that holds a horse's saddle in place – have fired the imagination over time. Visitors follow the Horsebit from its debut on loafers and a version redesigned in 1955 – which features on the Horsebit 1955 bag first presented in 2020 – to a 1960s belt, a 1970s wool and suede dress, and Tom Ford-designed shoulder bags. 'Zoetrope' also demonstrates how the House's recent creative directors have playfully subverted equestrianism's traditional aristocratic practices to suggest more erotic possibilities, with examples including a Tom Ford-designed riding crop and Horsebit black leather corsage by Alessandro Michele.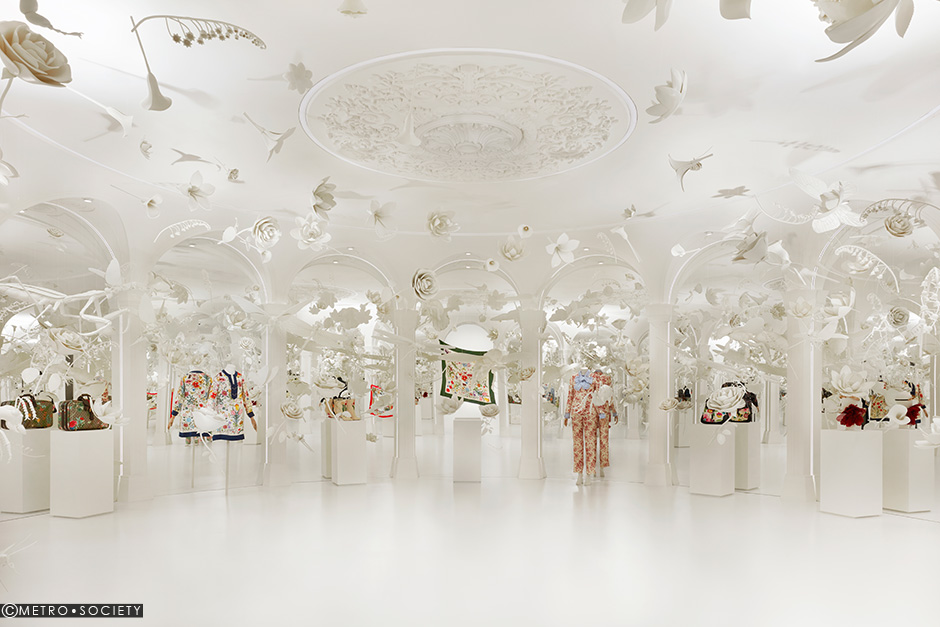 Eden
'Eden', the third world in Gucci Cosmos, brings to life the tale of Flora, an exquisite and delicately naturalistic image of plants and fauna from 1966. Commissioned by Rodolfo Gucci from Italian artist and illustrator Vittorio Accornero de Testa for a silk scarf created for Princess Grace of Monaco, it became the leitmotif for Gucci's 1981 ready-to-wear collection, presented in the Sala Bianca, in Florence's Palazzo Pitti and later ignited the artistry of Tom Ford, Frida Giannini and Alessandro Michele. Within the light- and mirror-filled circular space of 'Eden', Gucci's ongoing relationship to the diversity and beauty of the biosphere is symbolized in an installation of larger- than-life evocations of the flowers and insects featured in Accornero's design. They are suspended above key archive pieces that reveal Flora's constant ability to inspire. Embodying how the elegant pattern has been used, reused, and remixed are a gloriously hypnotic Flora-print silk minidress from 1969, Alessandro Michele's signature embroidered shearling-lined denim jacket with its 'L'Aveugle Par Amour' motto, and a series of silk scarves and fabric bags.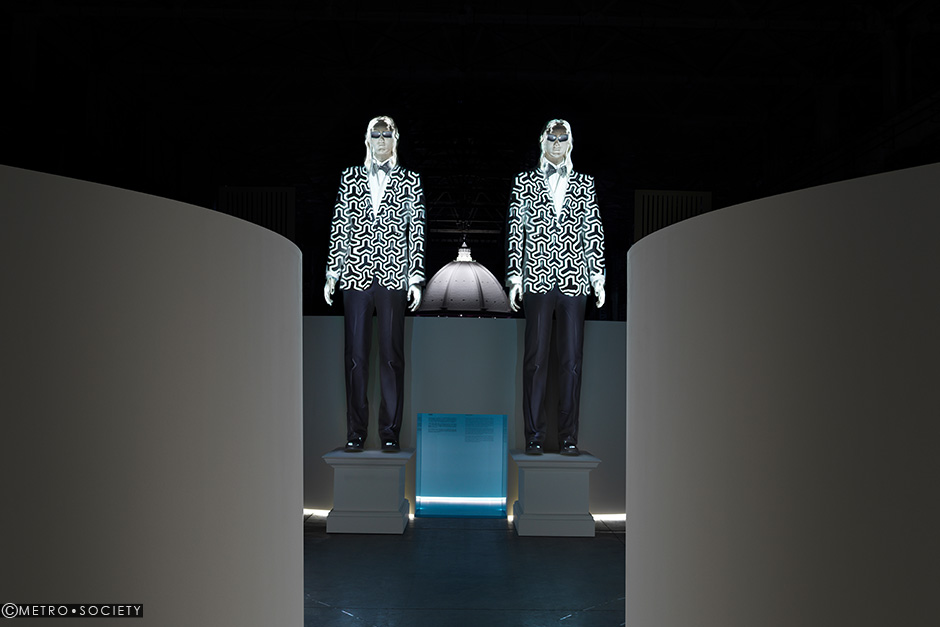 Two
Leaving the vibrancy of 'Eden', visitors are faced with a pair of monumental 10-metre-tall white statues. Standing as if guarding the entrance to an ancient temple, they symbolize the House's trail- blazing belief in unisex fashion and its ability to shift societal ideas and behaviour. Projected onto the statues' 'blank canvases' in a loop are images of men's and women's suits from Gucci's past and present. These include the celebrated red velvet suit created for both men and women by Tom Ford in 1996; one striking Frida Giannini-designed checked suit with cinched waists; and designs by Alessandro Michele, such as his sparklingly floral unisex versions from 2016 and one from his 'Twinsburg' collection, shown in 2022.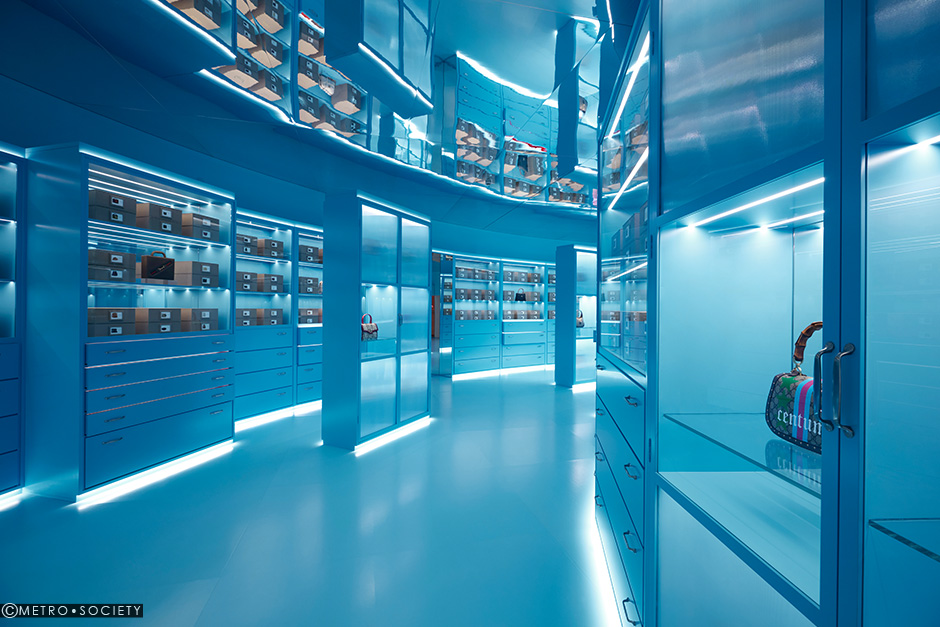 Archivio
To enter the 'Archivio' world of Gucci Cosmos is to explore the origins of the House's most iconic bags. In a breathtaking space with a mirrored ceiling that creates a feeling of infinity, a series of maze- like corridors reminiscent of the Gucci Archive in Florence are lined with a multitude of cabinets and drawers. Some open to reveal their contents, others closed or half-open or hidden behind frosted glass, as if holding back their creative secrets. The historic bags on display include five of those now considered modern, yet timeless classics: the Bamboo 1947, the Jackie 1961, the Horsebit 1955, the Gucci Diana, and the Dionysus.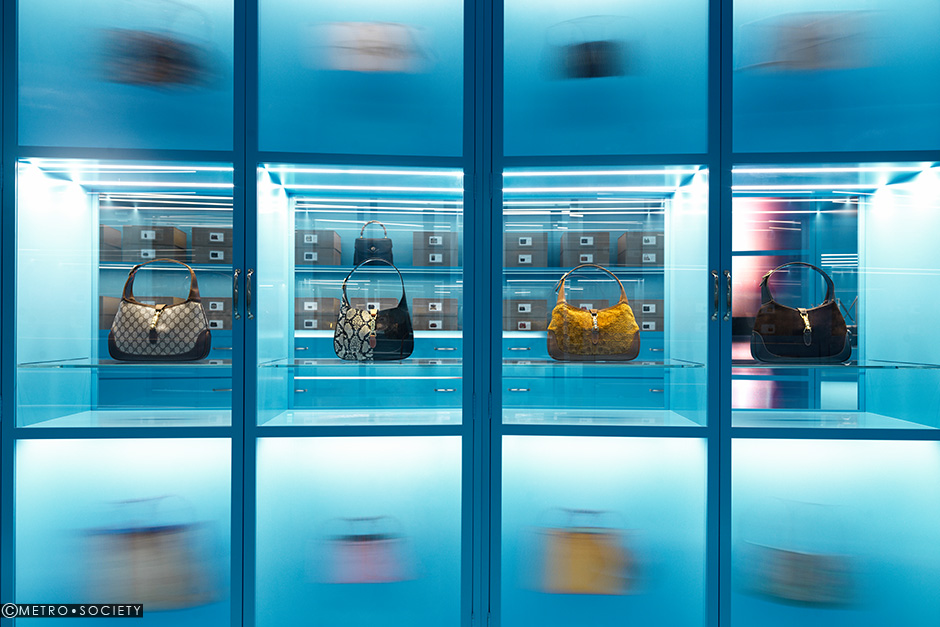 The versions within the 'Archivio' world encompass a rare and colourful 1960s hemp interpretation of the Guccio Gucci-designed Bamboo bag, alongside a revisited leather version from the 1990s; an early example of the Jackie bag, featuring its signature piston clasp and web stripe, as well as a late-1970s update featuring the legendary GG pattern. Also on show are a red leather bamboo-handle tote from the early 1990s that Alessandro Michele reimagined as the Gucci Diana in 2020, and two bags bearing the GG logo: an early-1970s style in black leather defined by its rounded version of the signature interlocking G emblem, which inspired the Gucci Blondie first presented in 2021, and the debut GG Marmont in white matelassé leather, designed by Alessandro Michele in 2016. Alongside the cabinets, visitors can continue their archive dive by exploring drawers containing reproductions of illustrations by Vittorio Accornero de Testa, artisans' sketchbooks and technical drawings, and vintage advertising campaigns.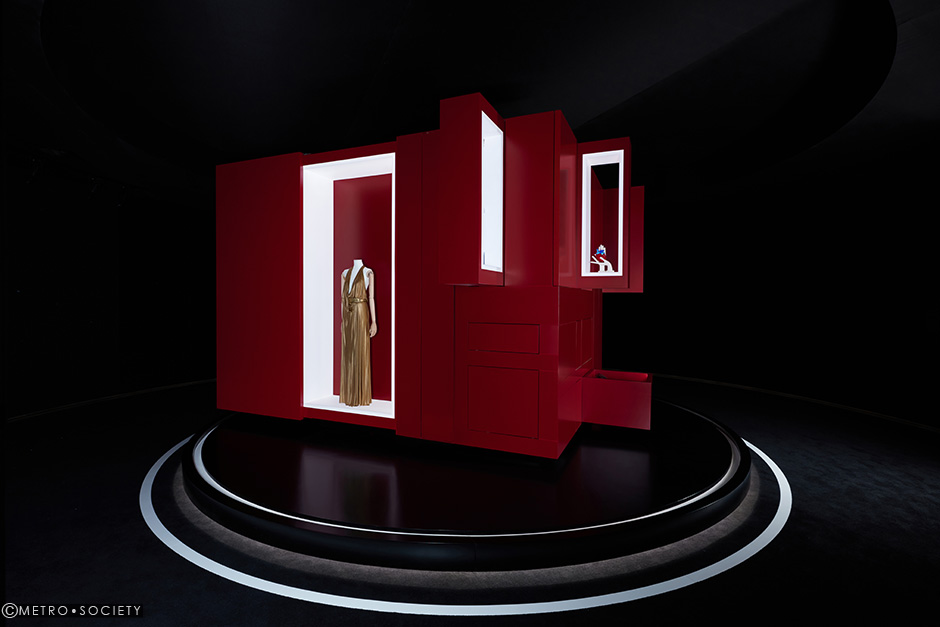 Cabinet of Wonders
At the centre of the circular 'Cabinet of Wonders' world sits a rotating cabinet of curiosities. Three metres high, this stunning monolithic cube covered in deep red lacquer is filled with drawers and compartments that mechanically slide in and out – accompanied by a soundtrack of human breathing – to reveal a wildly eclectic collection of garments, accessories and curios. Showcasing the full breadth of the House's design range, it contains everything from a Tom Ford 2001 collection look with a black leather bustier to a 2006 Frida Giannini golden evening gown to an idiosyncratic dress by Alessandro Michele from 2018, embroidered with lace, pearls and beads; a quirky black velvet clutch with a gilded metal hand clasp from the 1950s, as well as a punk-inspired spherical leather bag with metal spikes from 2019; a selection of singular jewellery pieces from the 1960s to 2020, alongside a set of silver deer-shaped beakers from the early 1970s; and an Alessandro Michele black ostrich-feather fan and Tom Ford-era electric guitar. Like a symbol of Gucci's free- spirited heart, 'Cabinet of Wonders' is a testament to the House's unending flair for transforming the unexpected into objects of beauty and for audaciously following wherever inspiration may lead.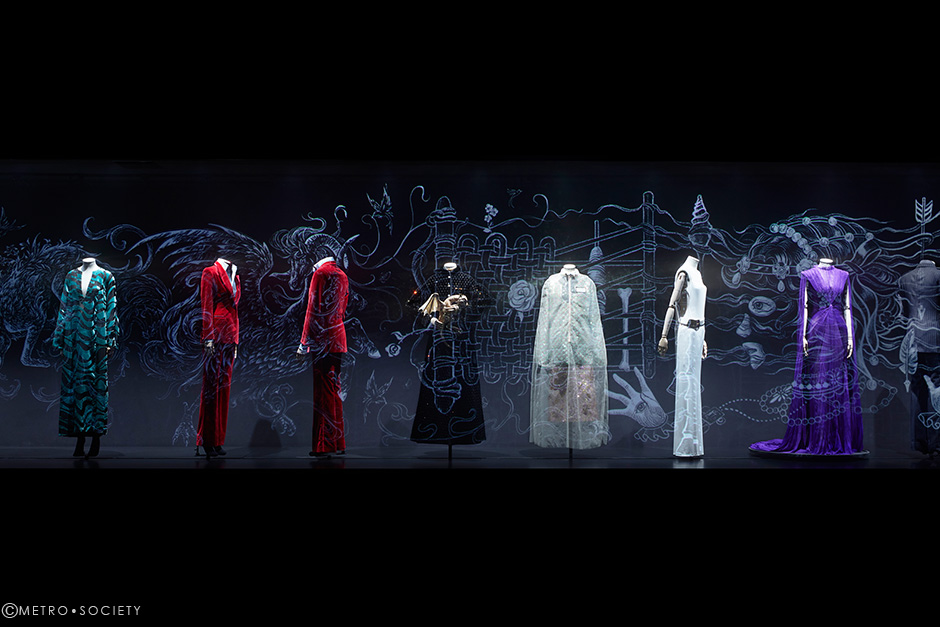 Carousel
In 'Carousel', a parade of 32 mannequins wearing Gucci clothing from the 1970s to the present day glide smoothly by, like fashion models on an ever-moving catwalk. By arranging these full looks – each from a specific season – not by chronology but by colour and inspiration, 'Carousel' opens up entirely new connections, like a dance across time, and underlines the House's ongoing creative conversation with its own heritage and modernity. A 1970s silk shirt and skirt with a G cube motif
speak to the trompe l'oeil ribbon on an elegantly playful 2016 wool coat; the delicate swish of a 2012 Frida Giannini chain-embroidered flapper dress plays off the hedonistic and seductive glamour of Tom Ford-designed unisex suits from 1996. As the looks rotate around the conveyor belt, drawings by selected Chinese artists including Victo Ngai, Vikki Zhang, Li Jianmei, and Currynew converge within a collective illustration, forging further dialogue and strengthening the creative ties between continents.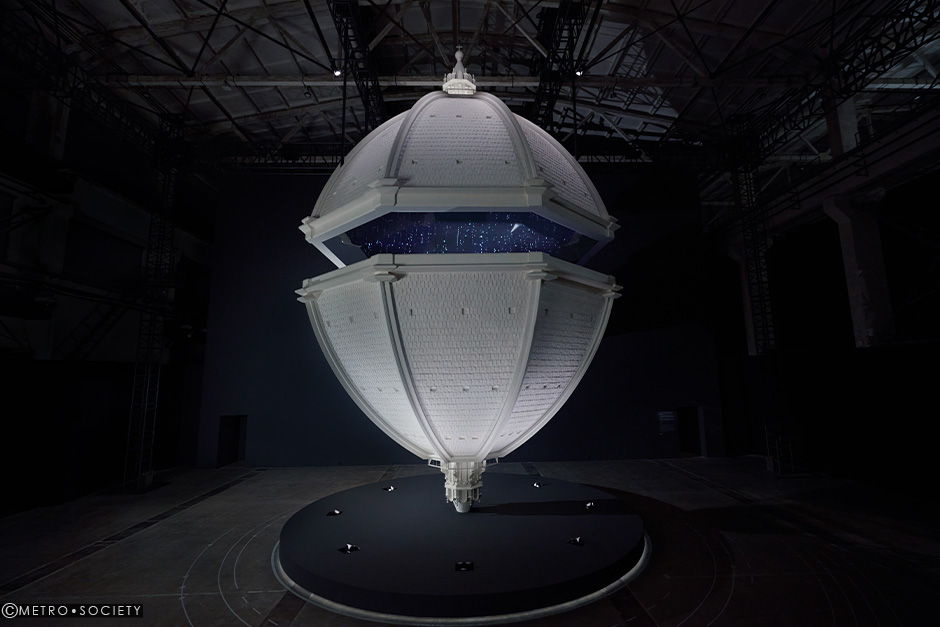 Duomo
While Gucci has continuously embodied and transfigured the Zeitgeist throughout its first century of boundless creativity – a reputation cemented over the decades as it became the House of choice for the international jet set and the most celebrated stars – it has always remained anchored in its spiritual and aesthetic home, the city of Florence. Gucci Cosmos fittingly culminates in 'Duomo', a spectacular homage to the city. Two large-scale reproductions of Filippo Brunelleschi's revolutionary 15th-century dome for Florence's cathedral, Santa Maria del Fiore, one of which is inverted beneath the other, are reached along a suspended viewing platform. Inside, designs and patterns from Gucci's past and present are projected onto the dome's interior in an all-enveloping son-et-lumière experience. The result is a looping kaleidoscopic spectacle that also includes flowers inspired by Vittorio Accornero de Testa's Flora, for a fittingly striking finale to an exhibition that celebrates the House's joyfully eternal values.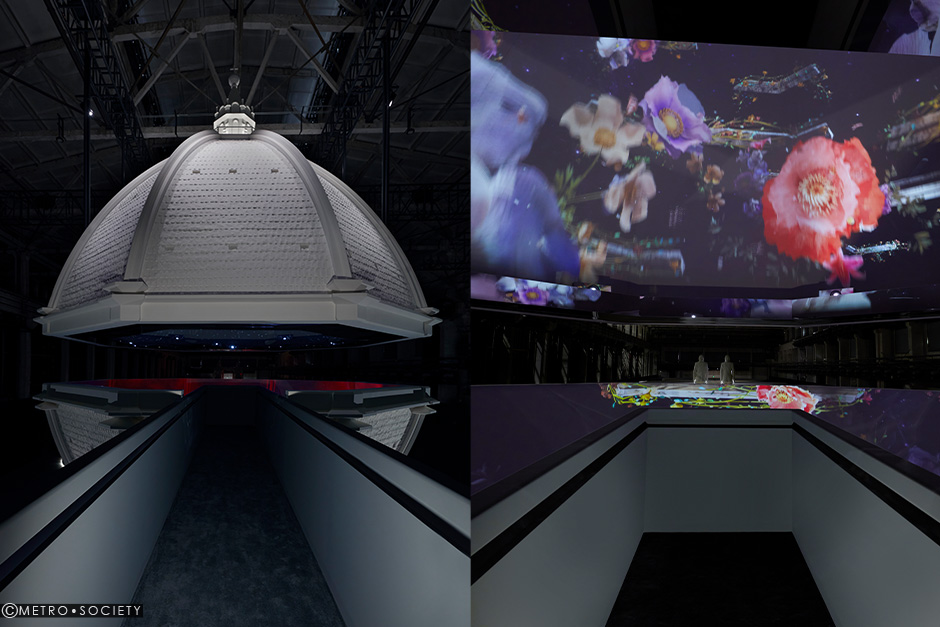 Ultimately, Gucci Cosmos is an experiential incarnation of the Gucci soul and a tribute to the House's most iconic designs, symbols and products, and the exceptional talents of its designers and artisans. From Guccio Gucci in 1921 to today, they have all ensured – and continue to guarantee – that Gucci will forever remain at the pinnacle of creativity and Italian craftsmanship, a global House committed to genuine luxury quality, iconic designs, and ideas that shape the future.
Gucci Cosmos opens at the West Bund Art Center, Shanghai, China, on 28 April 2023 and runs until 25 June. The exhibition will then tour the world.