Lanvin
Fall/Winter 2016
November 1, 2016

24,204
To mark his ten years as the men's style director at Lanvin, Lucas Ossendrijver has chosen to go beyond a mere retrospective and look to the very heart of his craft: the garment itself. Heavy basting stitches, shirts printed in faux patchwork and overdyed by hand, jacket sleeves constructed inside out with interior seams in thick cotton thread, hidden belts, a fur coat decorated with metal rings and leather strips…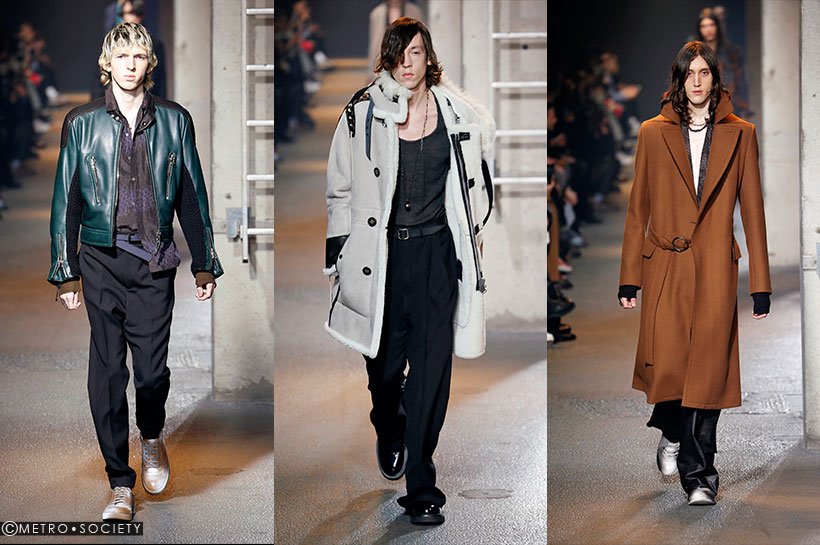 This season, the notion of surprise adds a further sense of poetry to the clothes, bringing a sense of difference, the personality that sublimes the underlying character. A delicate thread hanging from a sleeve, the movement of a slightly wide plaited bracelet on a wrist, the structure of a long scarf with a fringe formed by hanging ribbons…
These unexpected details add up to take a silhouette to a further level, and to create a series of unusual experiments in textiles, highlighted by the central idea of craftsmanship, symbolized this season by the symbol of a tool itself, whether a saw or a key, presented as accessories (pendants, keyrings) or printed on knits.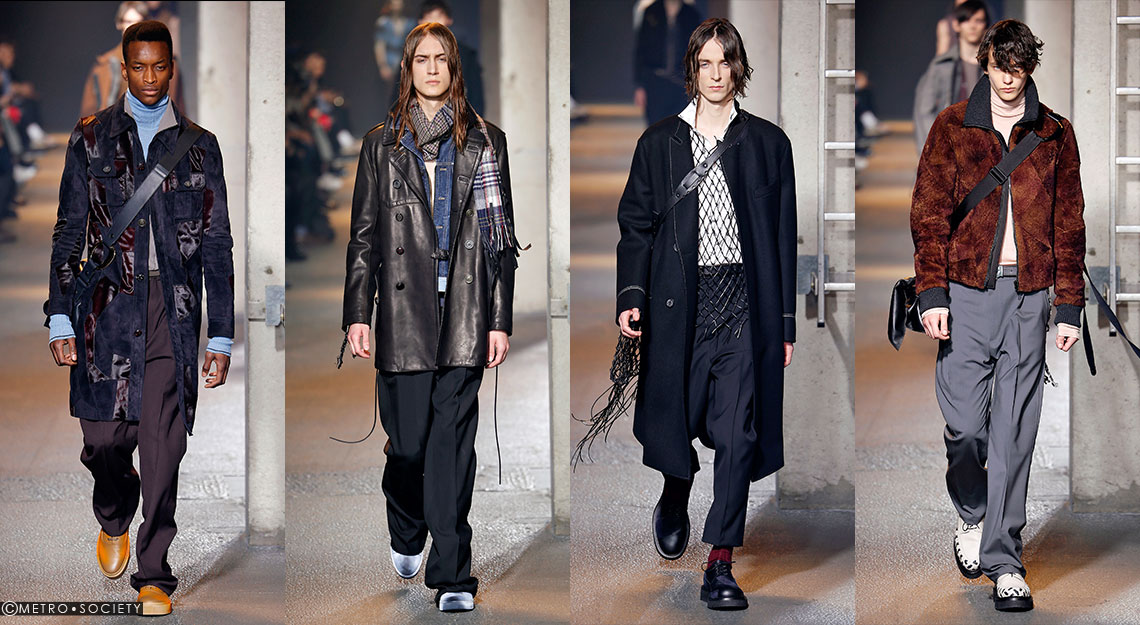 The studio and ateliers entered into a unique period of research and development, with the constant implication of Lucas Ossendrijver throughout the process, to be able to shake the very foundations of the winter wardrobe. The result is one that could only be achieved by this exceptional artisanal "savoir-faire" to bring about this tension between graphic effects and potential breaking points: cords are plaited on a leather biker, a coat is constructed entirely inside out , or sprayed dyed with paint to create a shadow effect, a blouson features a patchwork of suede and pony like calfskin…
Though the fabrics may appear as traditional, it is the idea of the traditional masculine wardrobe itself which is subtly subverted, such as a sleeveless jacket in Japanese tweed with exterior trim, whose collar has been cut off and its darts stitched together. Or a coat in pleated needle-punched wool with a miniature Prince of Wales check on one side and contrasting check on the other. An aviator jacket reveals a piece of knit as if merely placed over one shoulder, while a suit jacket is cut like a blouson, the mandarin collar closed with an oversized zip.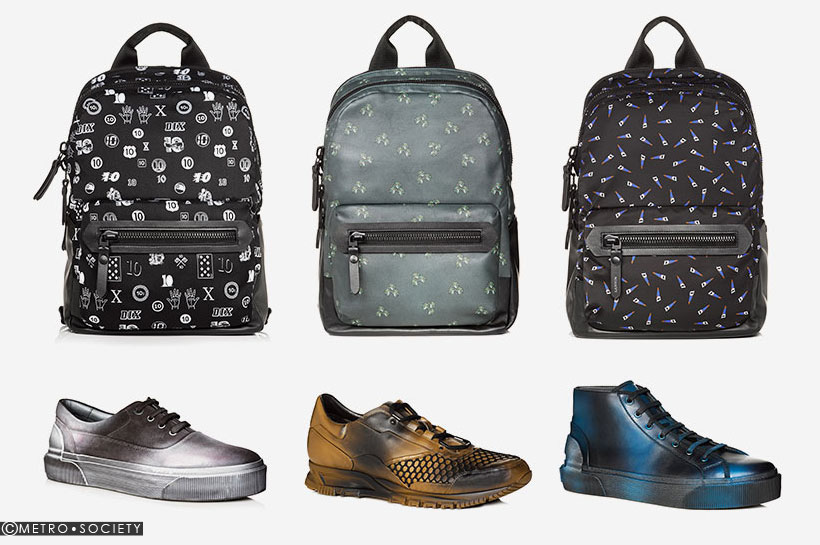 Lanvin sneakers are more iconic than ever. They come low or ankle high, with or without laces, with plain or vulcanised soles. Hand-sprayed in Italy, each pair is unique. There is an extensive range of colours: ivory leather mixes with electric blue, black with charcoal, grey is layered with dark red for contemporary colour combinations that conciliate artisan expertise with a cutting-edge modern spin.
The same spirit can be found in the "Weaving" shoes in their derby-style version and the Chelsea boots with their graphic shapes: a two-tone leather structure delicately hand-plaited with a natural crepe sole. No less than three hours are needed to plait the leather straps for each shoe.
A rucksack in nylon or calfskin printed with saws or water lilies, the large Messenger bag, the Hobo bag decorated with a leather bow or the Sailor bag revamped in a fuller size: the Lanvin man can carry all his life, all his many lifetimes in this collection of specially designed bags with particular attention to details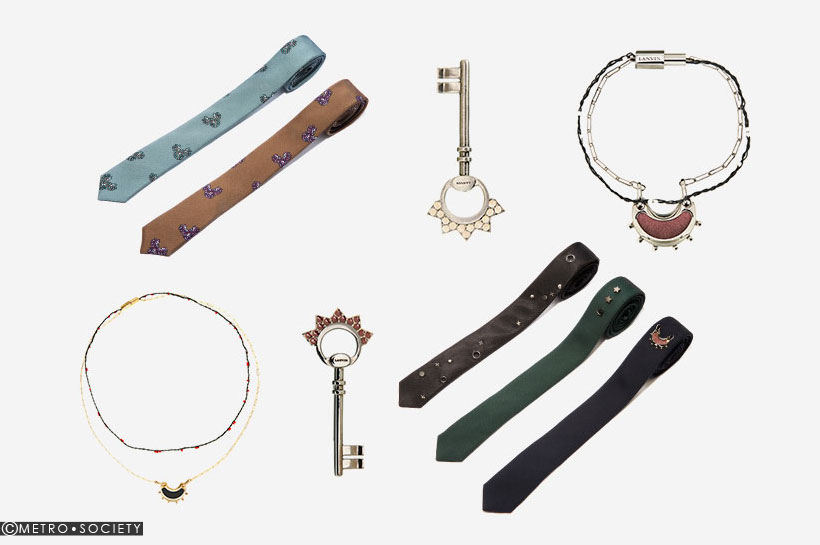 Tie pins in the shape of keys, half-moons, suns and the "infinity" symbol decorate bracelets and
necklaces... This winter, men's jewellery becomes protective talismans, mystical charms designed by Lucas Ossendrijver and inspired by esoteric symbols. Worn in layers around the wrist and neck, they are the bearers of all the season's promises.
1 of 20

2 of 20

3 of 20

4 of 20

5 of 20

6 of 20

7 of 20

8 of 20

9 of 20

10 of 20

11 of 20

12 of 20

13 of 20

14 of 20

15 of 20

16 of 20

17 of 20

18 of 20

19 of 20

20 of 20