JOHN VARVATOS
• Fall/Winter 2016
October 7, 2016

46,602
Building on a legacy of against-the-grain style and unapologetic edge, John Varvatos utilizes the Fall/Winter 2016 season to transform the way clothing is unveiled and understood, and to raise the question is rock dead? Rock extends beyond a genre or a moment and embodies a lifestyle unlike any other—but that way of life is threatened by a modern obsession with mass produced ideas and instant gratification. The windows of the Bowery store, formerly the iconic rock venue CBGB, are boarded up---a sign of mourning? A massive sign hangs from the rooftop: "ROCK IS DEAD?" Confusion hovers just outside the spectacle, but the answer lies within.
Forget standard protocol and drop preconceptions at the door as you step into a world infused with poignant storytelling, artistic disruption, and a healthy dose of audacity. You'll know you've been enveloped by this creative dimension as you pass a row of coffins, filled with the untimely corpses of rock itself. The line between reality and fantasy is blurred as you progress through a darkened labyrinth, at times unsure whether the figure before you is man or mannequin. Lights slice through precise pockets of darkness. Video screens flash with the iconic faces of world-changers, dream-weavers and relentless disruptors. Elaborate frames showcase new renditions of classic menswear essentials. From floor to ceiling you are challenged with illusions, puzzles, and humor as the experience gradually evolves into a final scene, wherein the true fate of rock is revealed…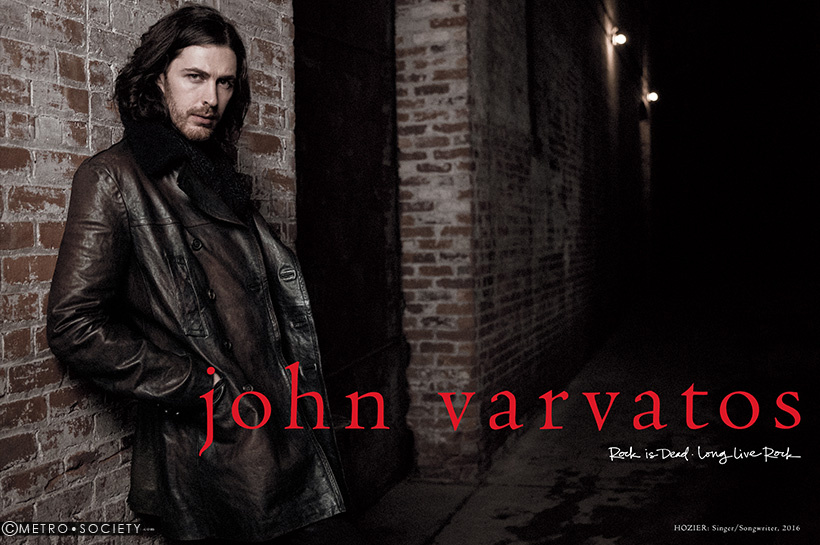 Rock is alive, and more powerful than ever.
Infamous for cultivating a fresh point of view while preserving an artisan heritage, John Varvatos presents a covetable collection for fall which fully embodies the disruptive and aesthetically groomed spirit of his fashion "show." The legacy of the brand is sewn into each seam of this season's masculine offerings, emitting a collision between modern sensibility and timeless craftsmanship. Disruption and audacity are found in unexpected textures and treatments, existing seamlessly alongside luxurious fabrications. Hand-lacing, plush interiors and hand-aged leathers allow a vintage look without sacrificing a luscious hand. Subtly printed fabrics present elegant highs and lows, taking seasonal staples like jackets and pants to a new level. A goat suede layer presents the texture of cashmere flannel, while shearling is rendered in silhouettes from motorcycle jackets to parkas.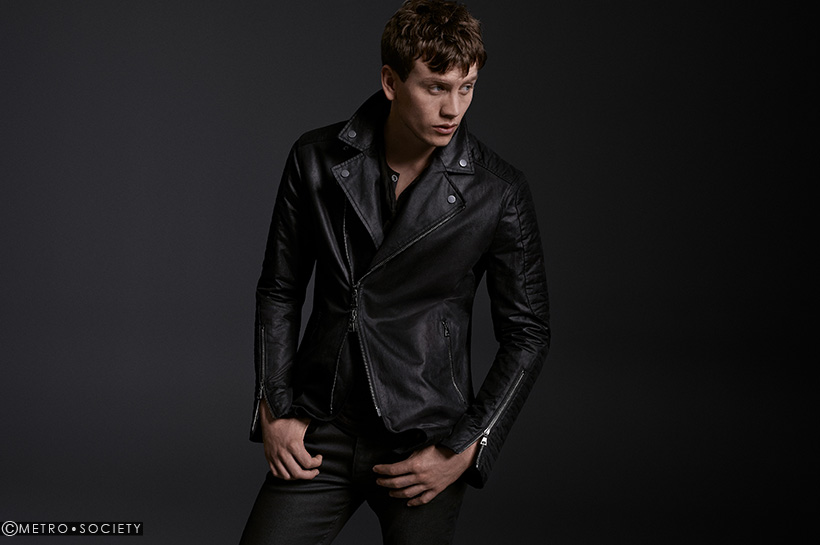 Tailored silhouettes take the stage in a slightly elongated form with a strong custom shoulder, moving the eye along an elegant hourglass silhouette. Tuxedo jackets continue to reign, rendered in abstract animal print and diamond jacquards with contrast piping. A soft tailored exploded glen plaid suit truly questions all with its question mark appliqué. Hollow core yarns are hand knit to form ultra-lightweight cardigans that preserve the look of substantial chunky sweaters. Encouragement to cause disruption, beginning with the wardrobe, truly emerges in the customization and versatility of the collection. Wires inserted into necklines offer the ability to wear jackets in new ways. A show-stopping coat presents a gradient of long haired alpaca yarn, needle punched into a base of woven plaid. Signature coated jeans, washed velvet jackets, and unique closures round out this season's rejection of the norm.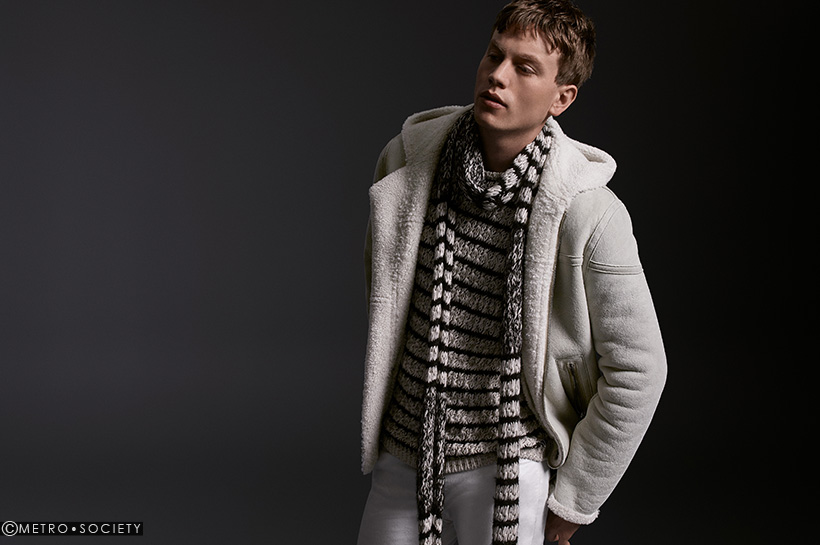 Shoes and bags from the collection are robust, featuring antiqued finishes and hand-applied treatments to achieve a genuine authenticity and continue a theme of stylized audacity. Signature boot silhouettes reflect curated textiles from the collection alongside sand-washed velvet, giving the appearance of suede. Bags appear substantial in weight, but are light and easy to carry, brandishing artisan details like hand-lacing and leather trim.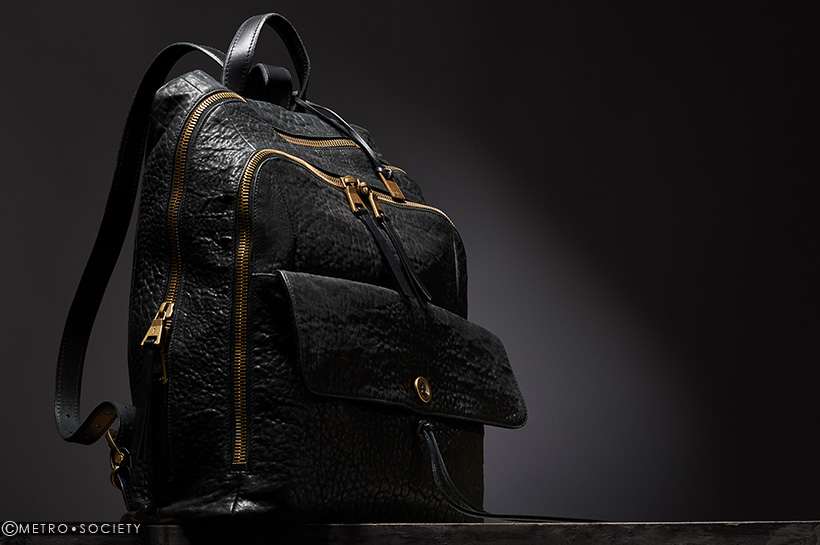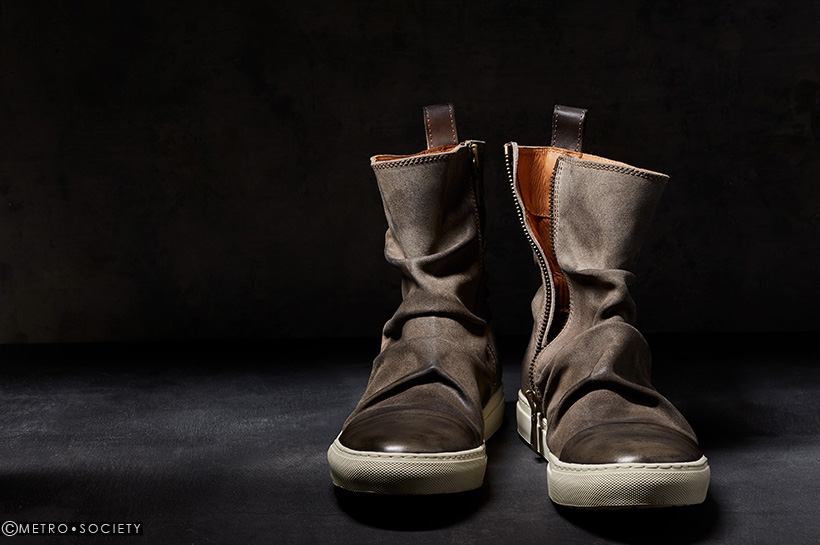 In the wake of innovative and sophisticated clothing for the modern gentleman, a social statement is made by the opening of the John Varvatos Fall/Winter 2016 show to the public the following day. Exclusivity is stripped from the equation, once more tossing the classic fashion industry protocol aside. "It's time to do something different—to cause disruption," says the designer of this new show format. "People need to change their lives, their clothing… to stop committing to someone else's uniform and lifestyle. With so much evolution around us, we need to create our own sense of being. Be rebellious. Be authentic. Walk to your own beat."
1 of 12

2 of 12

3 of 12

4 of 12

5 of 12

6 of 12

7 of 12

8 of 12

9 of 12

10 of 12

11 of 12

12 of 12