CALVIN KLEIN PLATINUM
• Fall/Winter 2016
December 3, 2016

46,685
Rebellious, subversive and sensual. Presenting men's and women's Calvin Klein apparel and accessories for Fall 2016. An empowering interpretation of the brand's iconic staples reimagined for today's generation of nonconformists.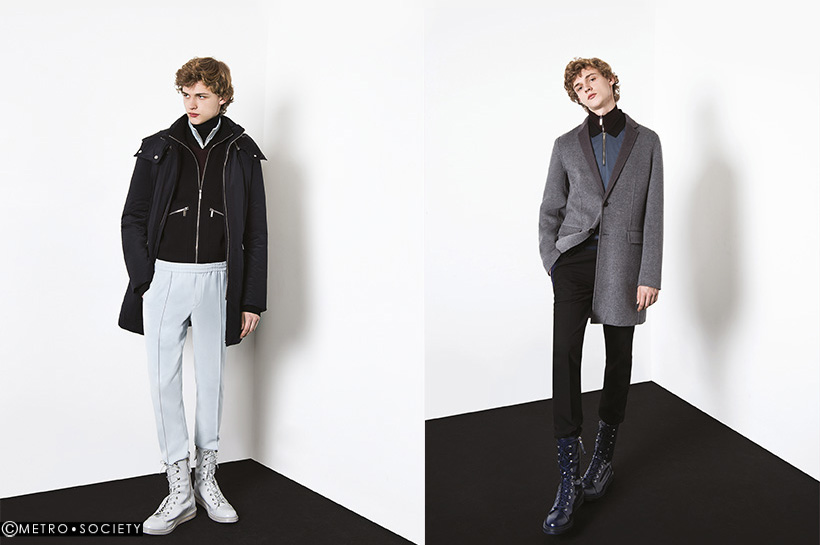 Men's Calvin Klein Platinum. Rebel sport, retro athletic. Expanded, exaggerated and intensified, fusing 90's minimalism, sport elements and punk details into a modern, layered and unexpected uniform. A youthful and rebellious attitude combines in a color palette of dusty powder blues, deep bordeaux and dark forest, merging with signature black, navy, grey mélange and chalk. The hues clash unexpectedly to create graphic, new looks. Soft nappa biker silhouettes in colored skins are juxtaposed with mixed media hardware and plastic in amplified zippers and silver snaps. Circular ring snaps are key, including multi-element zip detailing throughout. High-density embroideries outline edges and details, while heavy and soft top-stitching are applied to tailoring and shirts. Maximized or minimized geometric jacquards combine in shirtings and knits, and are injected into prints and graphics. Milano stripe and graphic rib trims punctuate knits and sweaters. Athletic track jackets and straight leg vintage-inspired track pants lend to this casual cool look. Spacer jerseys are key in an array of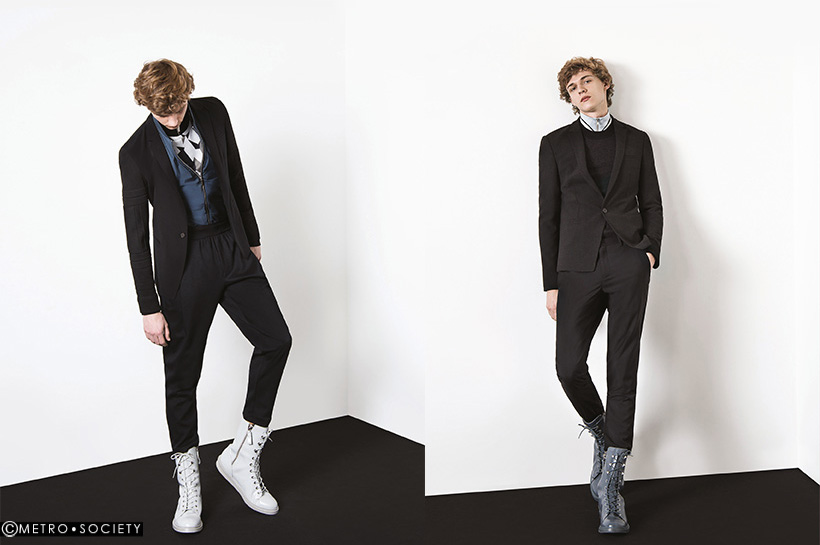 silhouettes from outerwear to sweatshirts to pants. Printed sculptural jerseys create graphic dimension. Styling is multi-layered; zip up bombers in wool or leather and stripe trim cardigans are worn over zip up high neck tops, and paired with wool overcoats in jacquard patterns and slim track pants tucked in to lace-up athletic boots.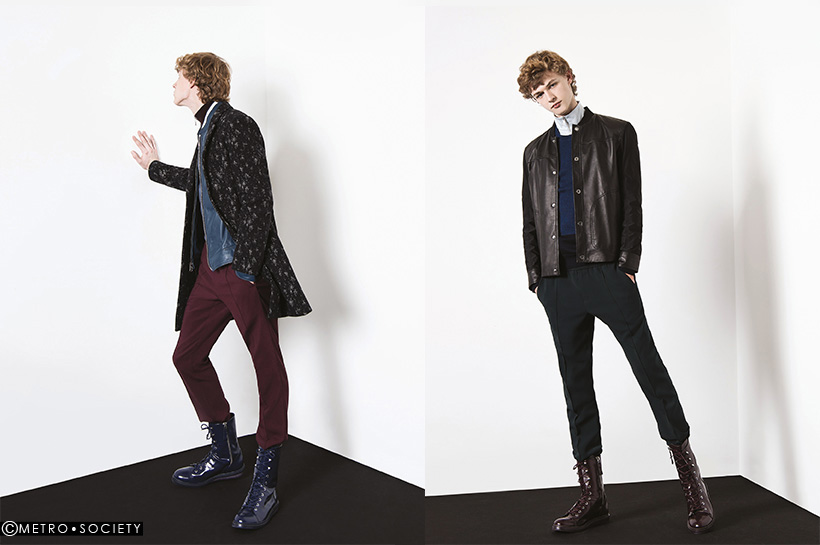 Calvin Klein Platinum Accessories. Disruptive and experimental, the new series plays with the boundaries of duality, highlighting the apposition of architectural lines and sinuous curves. Alluding to art, the minimalist shades are punctuated by a signature brush stroke print and bold amplified tones. The collision of elements continues in the silhouettes of supple leathers interposed by crisp contrasting edges and high-shine hardware. Unafraid to eschew traditional femininity, the pieces are awash in punches of jewel greens and blues among the muted nudes and cream. The elegant top handles and flared folds of Italian leather totes are offset by exaggerated chain links that reinterpret sophistication.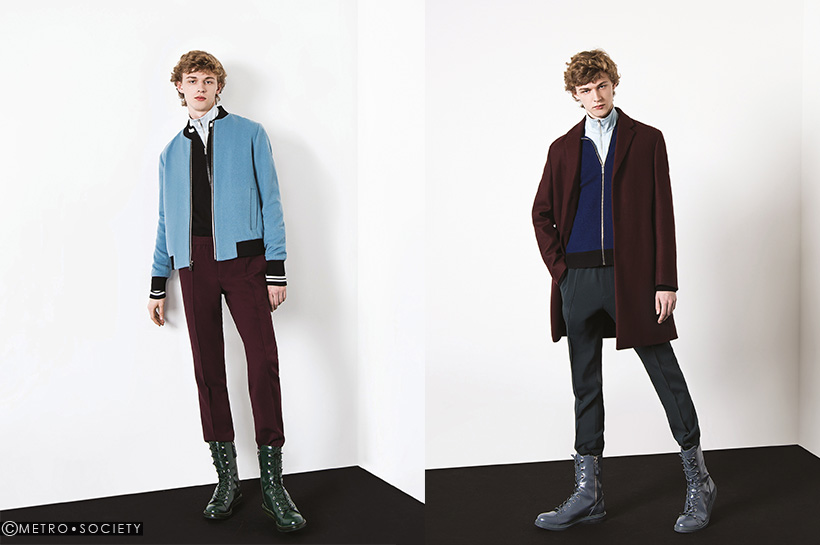 For him, masculinity is expressed in the connection between nature and technology. Retaining the luxe texture of sturdy leather and suede, the utilitarian edge is resolute in the polished chrome and signature carabiner. Duffles and backpacks come in structured shapes seamed with overlarge chrome details. Unabashedly reclaiming the sensuous tones of bordeaux for men, the restrained warmth effortlessly balances the cooler platinum and slate greys. Internal padded pockets lined with bonded ultra suede provide support for all technology needs.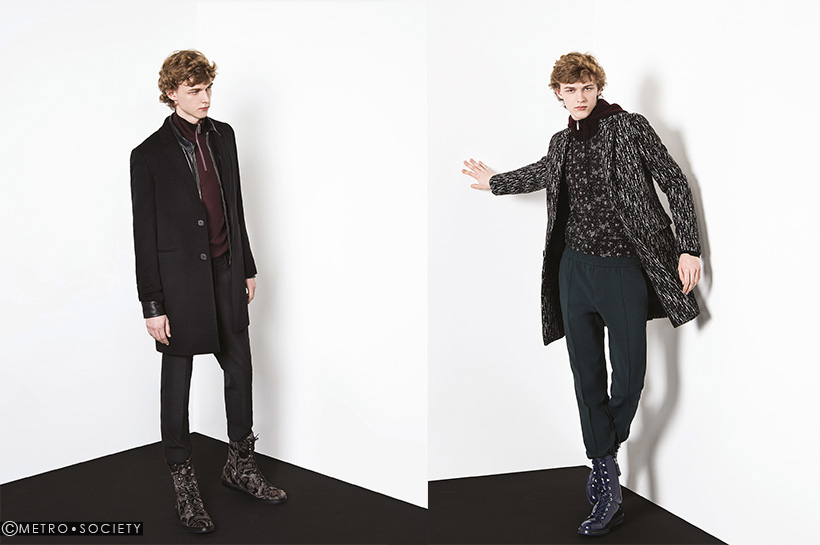 Meet Calvin Klein platinum Fall Winter 2016 collection at:
Central World 1st floor Tel. 02-646-1048
The EmQuartier M floor Tel. 02-021-2112
Siam Paragon 1st floor Tel. 02-610-7886
Central Chidlom (men) 4st floor Tel. 02-251-8454
Central Chidlom (accessories) 2nd floor Tel. 092-254-3427
Central Festival Phuket 1st floor Tel. 076-209-279
More information, please contact:
Public-Relations Department, Club 21 (Thailand) Co., Ltd.