GUCCI ULTRAPACE
September 10, 2019

21,248
The Ultrapace sneaker was first presented in the Gucci autumn/winter 2019-2020 fashion show, on both men and women, and immediately caused a stir on account of its '80s-inspired styling that sees it embellished with a host of rich details and contrasting logo elements.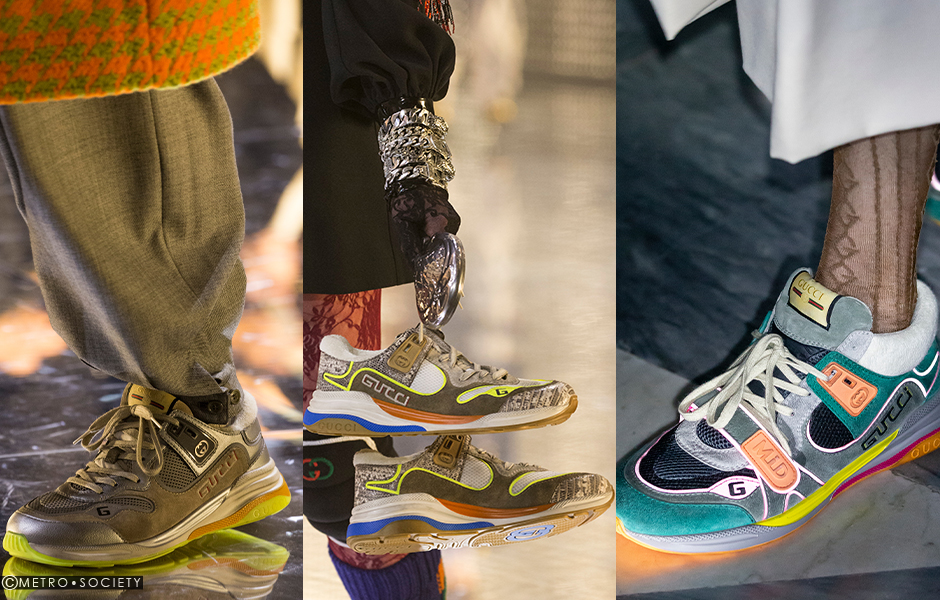 For Cruise 2020, the Ultrapace family has been expanded with the introduction of new, exciting materials and colours, and a mid/high-top version. The mixed materials and highly contrasting colour details contribute to the strikingly individual appearance of the style. There is also one version in sparkling fabric for an '80s disco vibe.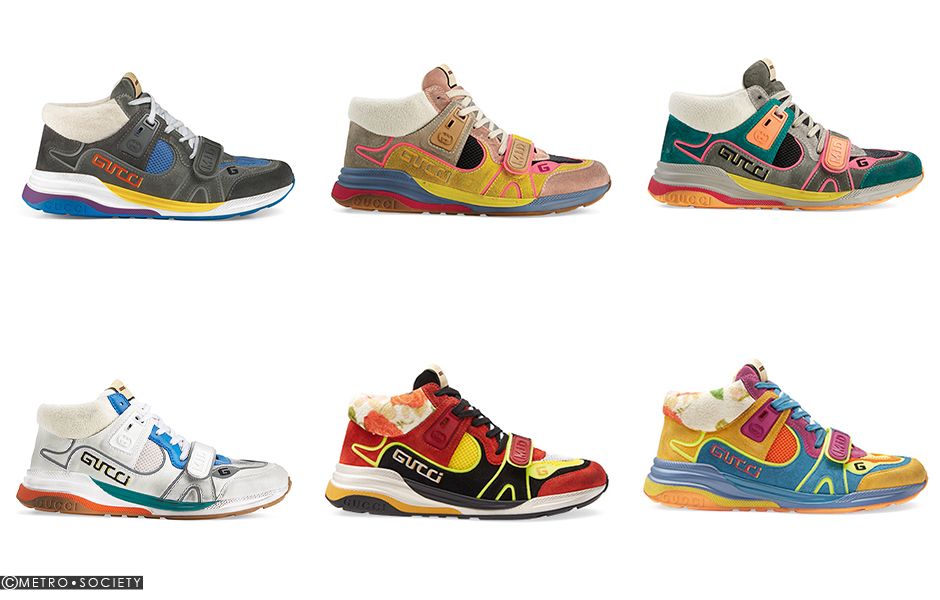 The characteristics of the Ultrapace are its ultra-combination of elements: a mix and match of materials and colours, and a lightly distressed effect that contributes to its vintage spirit. It has a tricolour rubber outsole, terry cloth lining and a shoe body made up of different combinations of Tejus printed leather, leather, suede,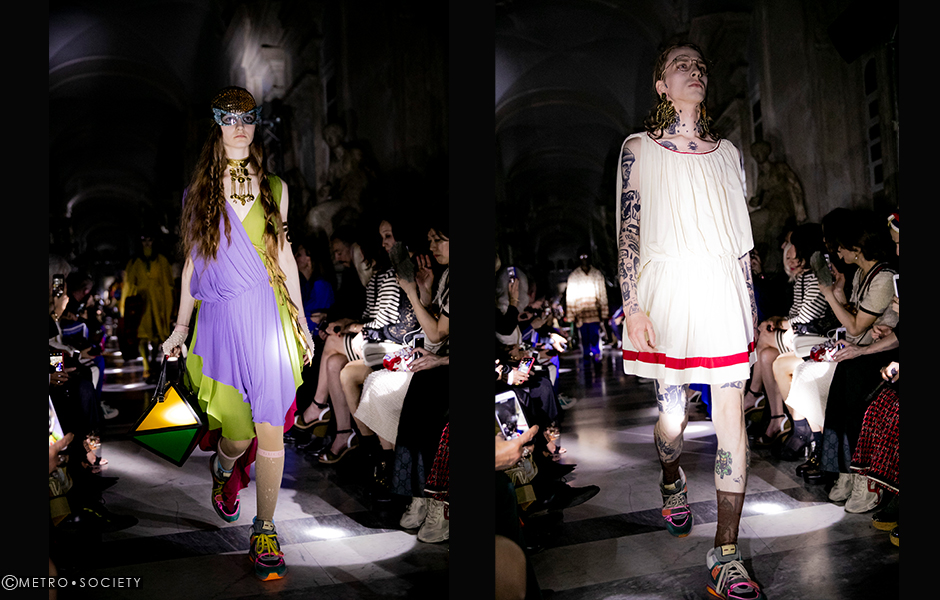 metallic leather and Lavaredo fabric. Different materials are in different colours – red, blue, green, yellow, orange, pink and more – giving the Ultrapace a patchwork appearance. Some models in the women's collection are further enriched by having their terry cloth lining printed with a rose floral pattern. The outsole of this unique sneaker is composed of three parts, with the midsole being coloured by hand.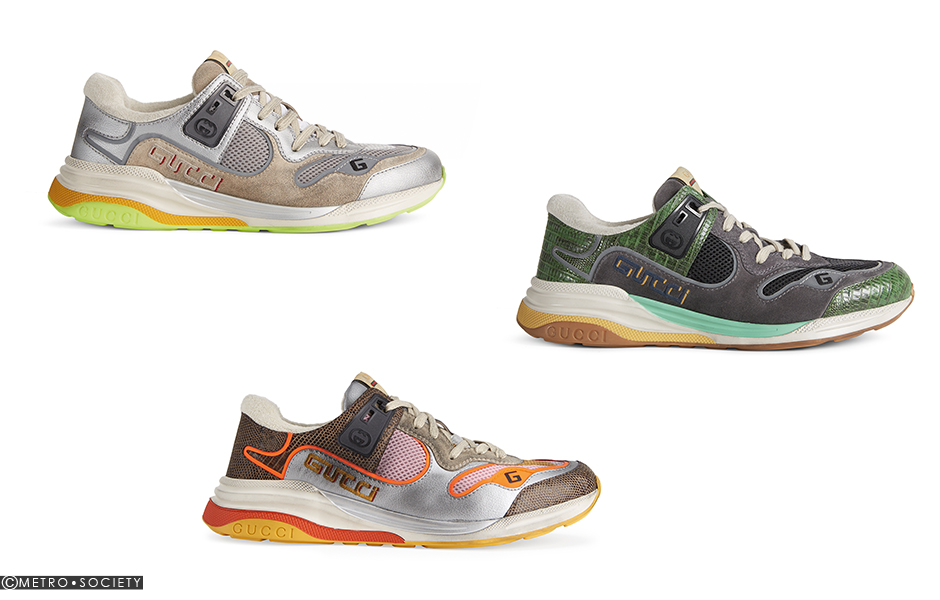 Furthermore, the Ultrapace displays a wide range of branding and logo details, which are applied to different parts of the shoe and are not consistent with one another, augmenting the sense of a product forged in an authentic and personal way. Decorative elements include a vintage-style Gucci label attached to the tongue and an embroidered "GUCCI" and letter "G".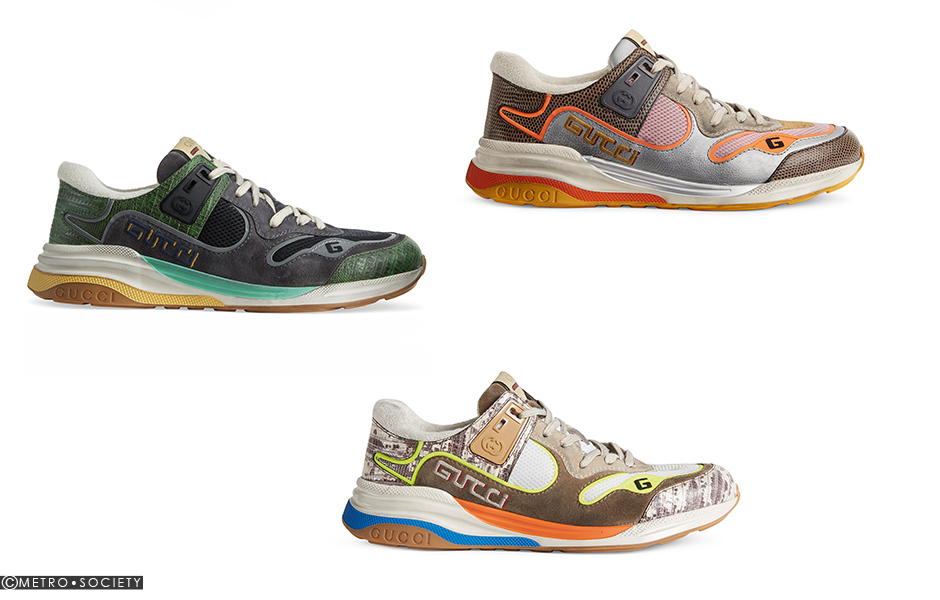 These, plus more Gucci logos and interlocking GG motifs on the shoe body and on its sole, combined with the fact that this branding is expressed in multiple ways (printed, embroidered or in rubber), give the Ultrapace the appearance of having been assembled in an eclectic way, adding to its appeal as a shoe with distinctive character.
In addition to the original version launched for autumn/winter 2019-2020 there is now a new mid/high-top Ultrapace as well, with the same colour combinations and details as the lower version. However, the mid/high-top has an additional Velcro strap running across the vamp with the word "MiD" on a rubber panel applied to it.Despite its vintage appearance, the Ultrapace delivers modern levels of comfort, thus combining fashion with function in a thoroughly contemporary way.