LOUIS VUITTON X FRAGMENT DESIGN • Pre Fall/Winter 2017
Downtown New York in the 1980s, and the world surrounding artists such as Keith Haring and Jean – Michel Basquiat gives us the starting point for this Autumn/ Winter' 17. Hiroshi Fujiwara first travelled to New York city in the early 1980s, and brought back with him to Tokyo the first early hip hop to be played in Japan. It is all-American world of the growing hip hop movement, coupled with the preppy varsity look of the artists of the era, and the cool style and graphics of Fujiwara's Fragment Design, that gives this collection it's identity.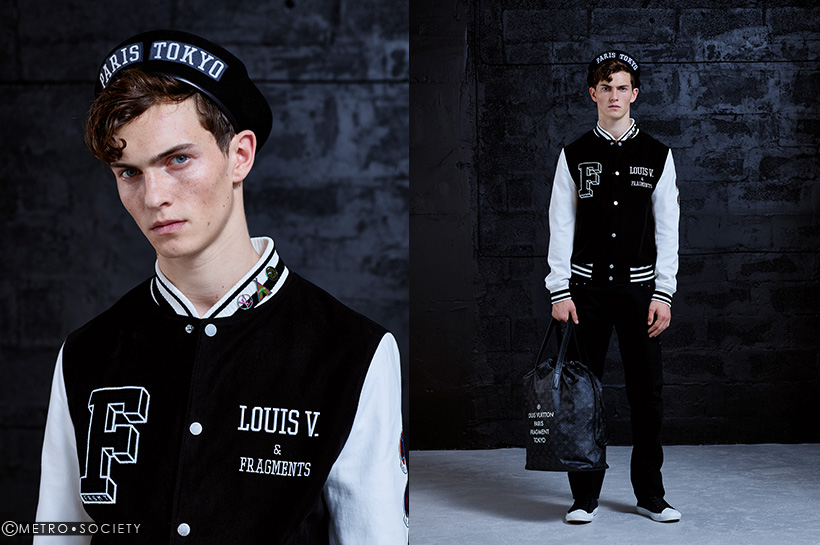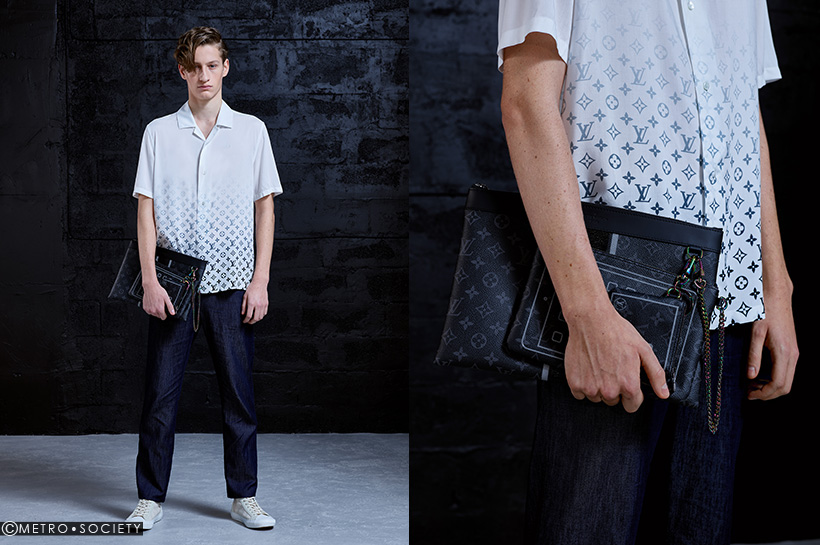 "For the Men's Autumn Winter 2017 precollection, we have joined forces with Hiroshima Fujiwara, the globally influential streetwear designer and archetype of Japanese cool. Hiroshi brings his unique pop culture sensibility to a capsule of fun garments and accessories for the modern traveler, all focused around an imaginary group: Louis Vuitton and the Fragments" explained Kim Jones.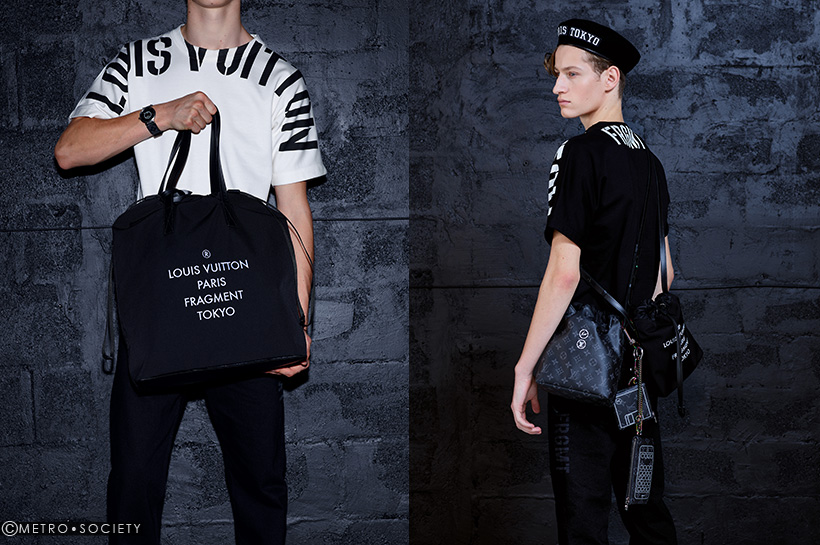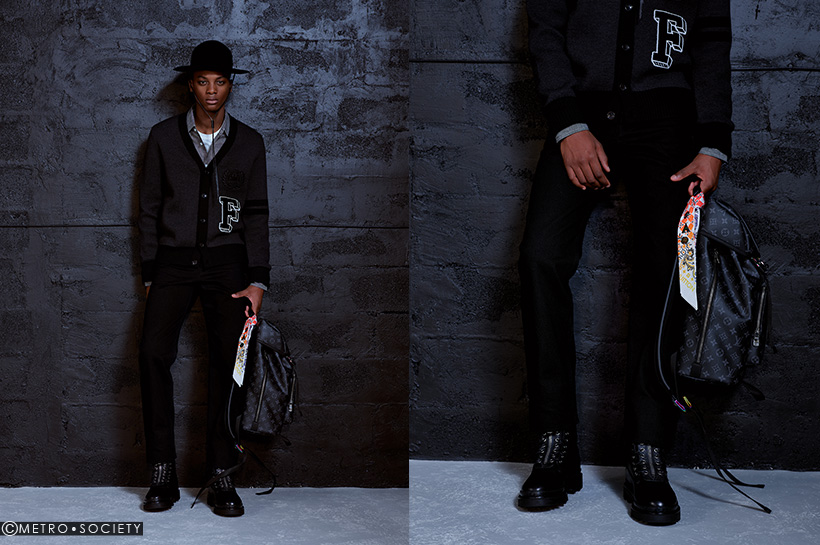 We start this season graphic and fresh, with a clear break from the previous collection in store. Black and white are the main focus in the trans-seasonal delivery, moving onto college brights in the second group. Red, mustard yellow and bright blue bring the classic charcoal, navy and black colour palette to life. The third delivery group is full winter, with a rich, more Uptown New York palette of sophisticated off-tones of rich brown, khaki, petrol blue and navy. As always we have a connecting palette of bright and classics that runs throughout the entire collection.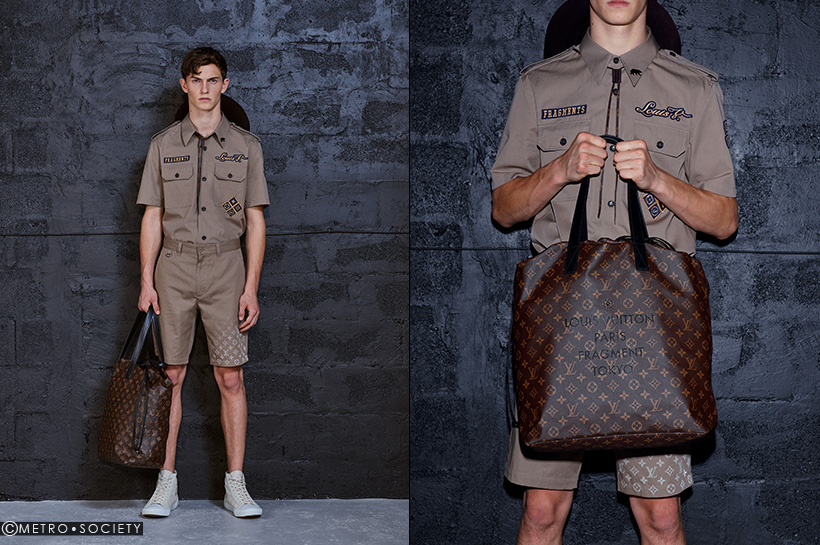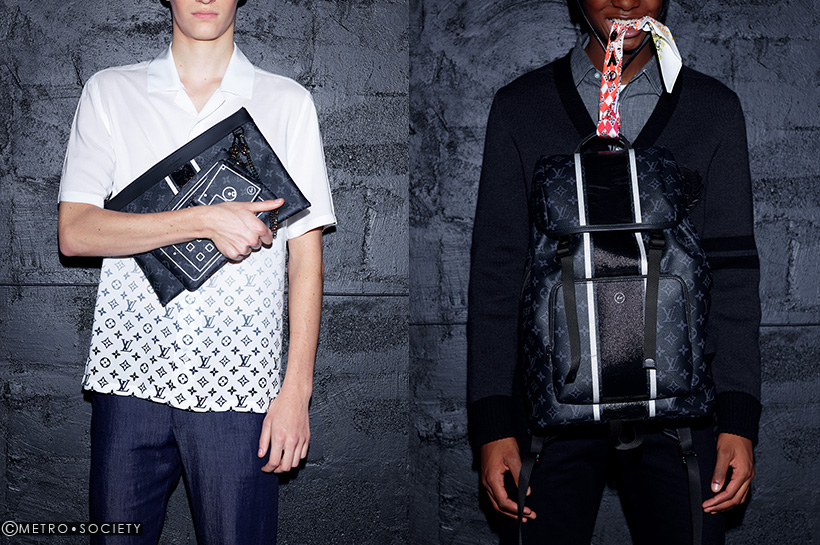 Graphic are clearly divided between the deliveries, whilst still merchandising easily together. We start with the strong visual of the Fragment Design Collaboration – a combining of graphic logos, varsity elements, and a chic degrade monogram. The second delivery is young. Fun and easy, with colourful ivy league motifs leading into the more sophisticated mixed checks via the artistic paint splash print. An archive "Louis Vuitton Forever' fits perfectly into this story.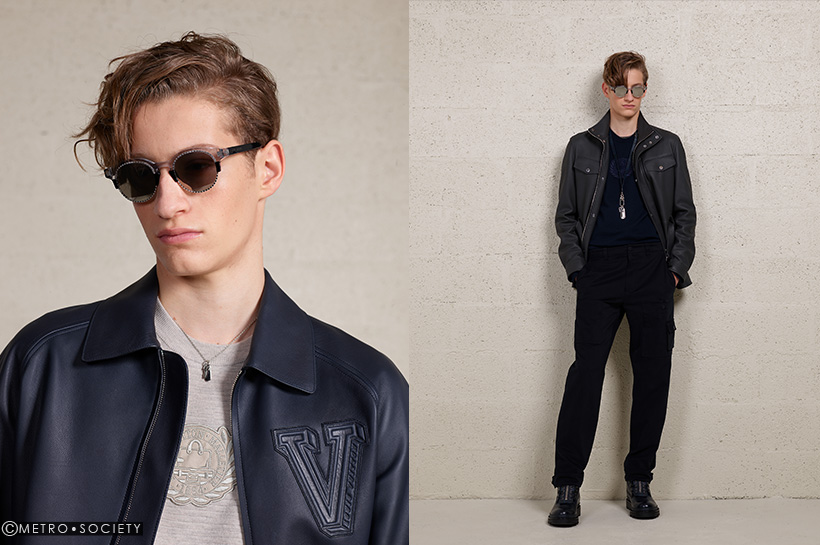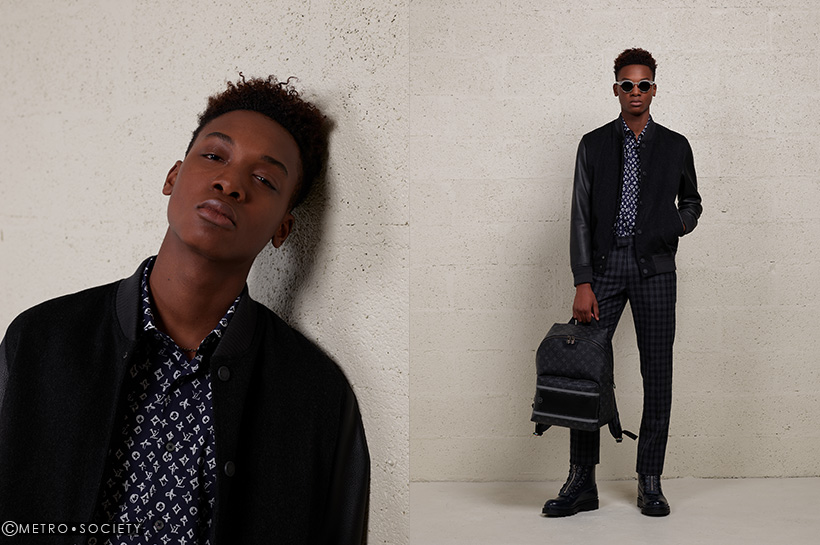 Next the deeper colours of the full winter delivery lend themselves easily to rich checks in coats and trousers, and to an allover print of the various seasonal jewellery. Let's not forget either the archive embroidery on the new offering icons – a chic satin souvenir jacket.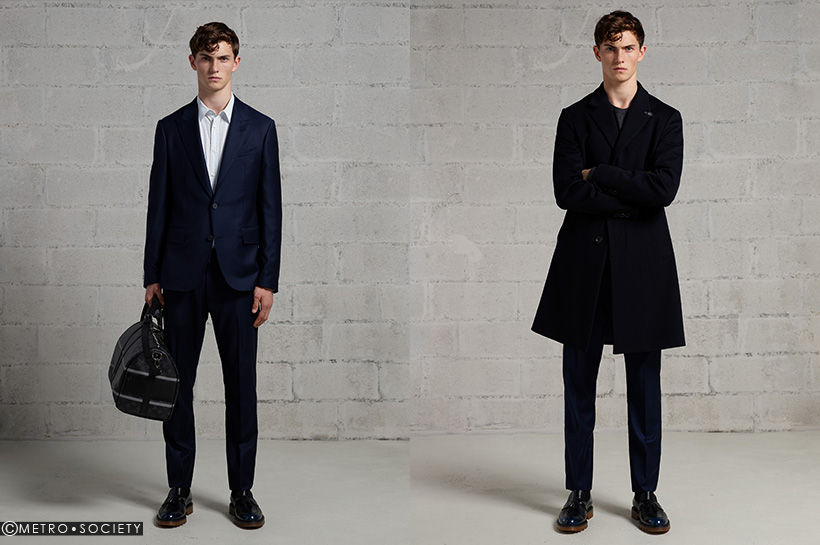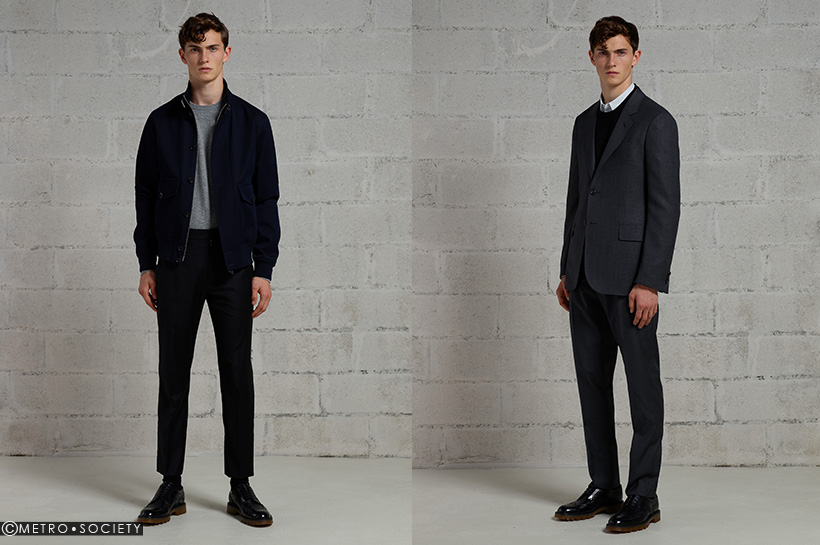 The leather in this season ranges from supple reversible lambskin to soft calf and deer and warm shearling. Our trans-seasonal leather piece is reversible into a sporty nylon with a new technique reversing the leather seams onto the nylon side for a more luxurious finish. The leather in the second delivery group is sporty but sophisticated, with embossed varsity patches, biker styles and a stadium jacket with leather sleeves.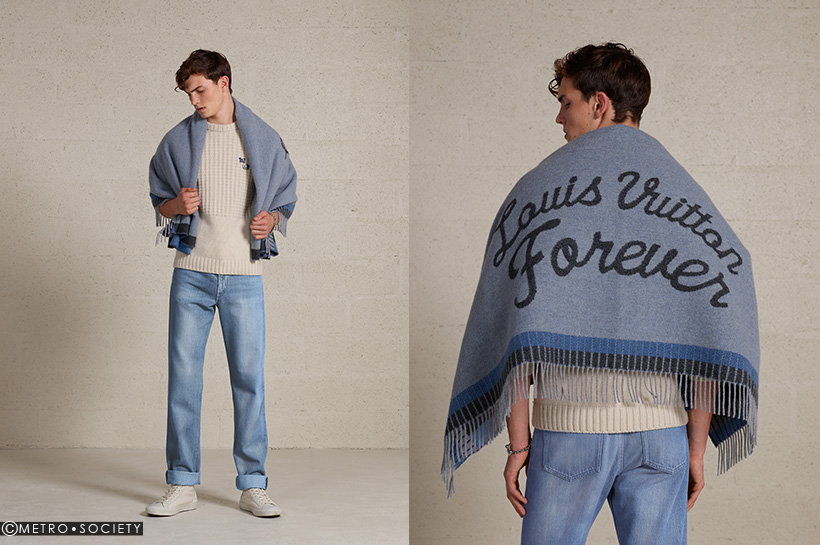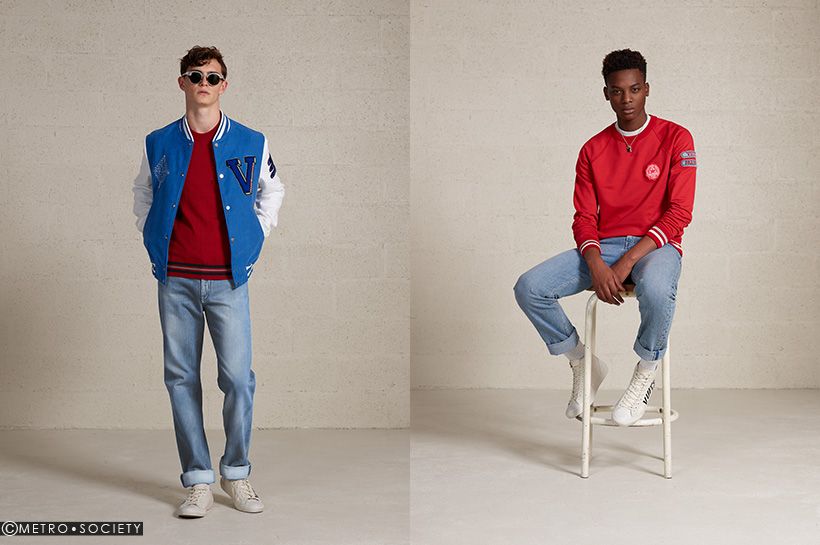 Leather in the third delivery is warmer and more wintry, with shearling collars and detachable linings transforming outerwear and a new perfecto jacket as the season changes. Full winter shealing pieces are more military in their styling but rich and luxurious in dark colours.
1 of 12

2 of 12

3 of 12

4 of 12

5 of 12

6 of 12

7 of 12

8 of 12

9 of 12

10 of 12

11 of 12

12 of 12