LOUIS VUITTON • Pre-Spring/Summer 2018
"This season, I was thinking about the great outdoors, from the tallest mountains to the smallest islands," says Kim Jones, the Men's Artistic Director of Louis Vuitton. "This is about the spirit of adventure innate to Vuitton."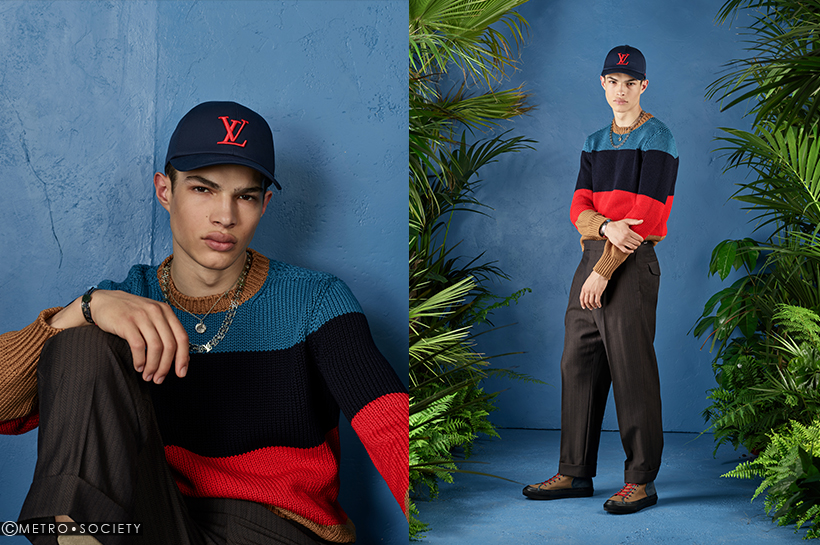 The Spring/Summer 18 pre-collection is a celebration of exploration and activity. Travel is always at the heart of Louis Vuitton, and with this collection focus moves to America's West Coast and Hawaii, embracing outdoor pursuits and island life. The Vuitton man is active, vibrant and energised.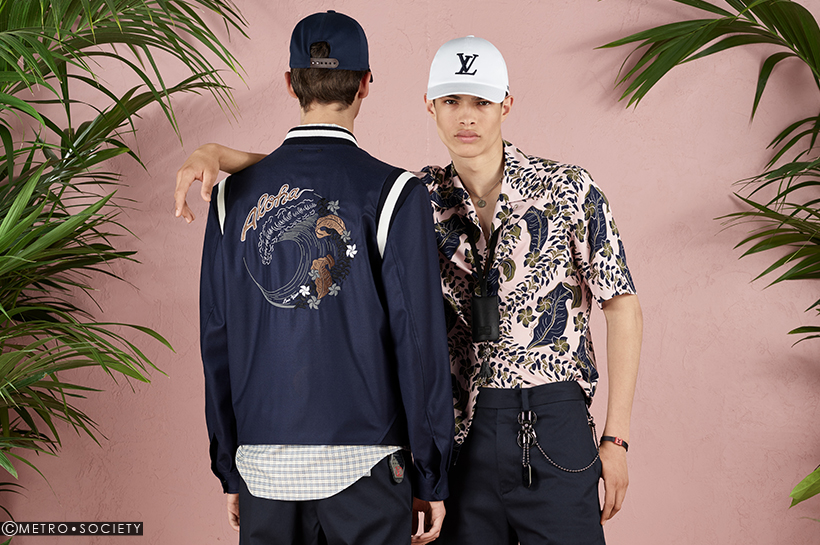 A broad gaze when it comes to geography and the history of men's style always underpins the men's collections. This season is influenced by a range of 1960s and 1970s adventurers, from the climbers who broke records in Yosemite National Park during Yosemite's 'Golden Age' and their Californian neighbours, the now infamous skaters of Venice Beach, to the surfers in Hawaii on Oahu's North shore. Both their wardrobes and their voracious energy inspire this collection.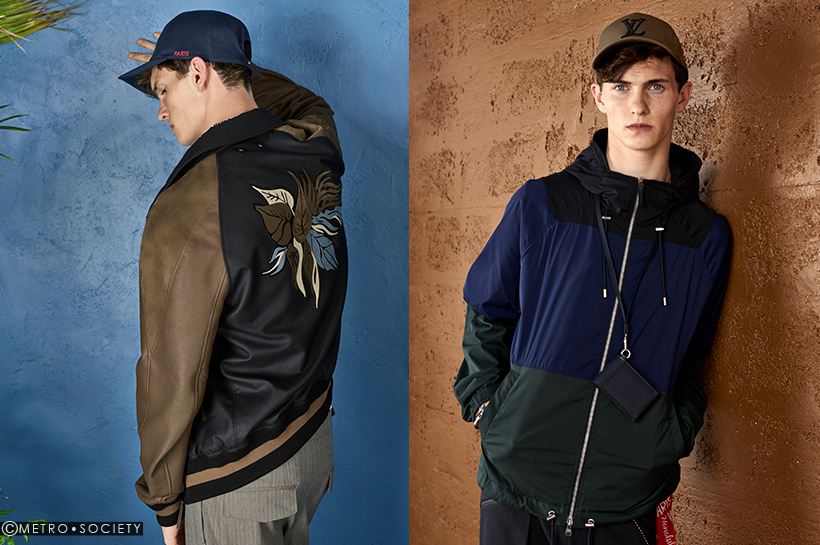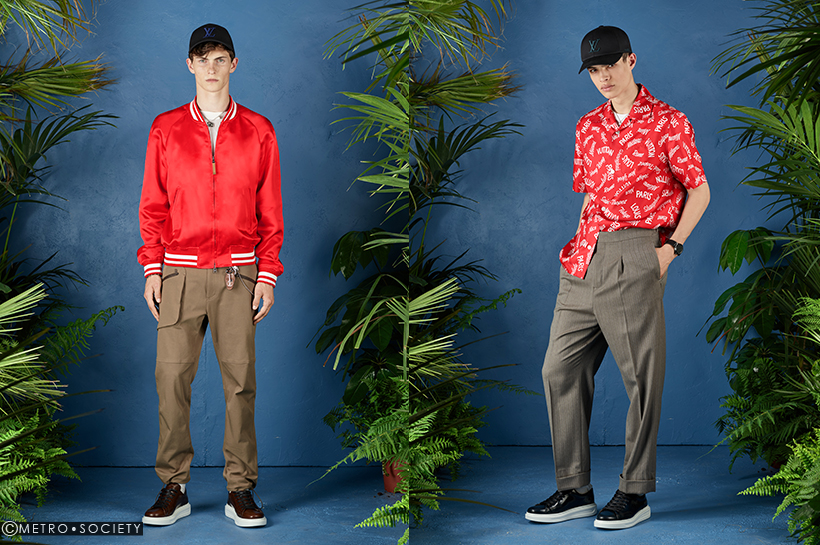 Colours encompass outerwear classics such as grey, forest green and navy alongside holiday hues, including red, pink, khaki and nautical blue. Retro graphics are used in modern ways. A floral Hawaiian print, depicting a vibrant blossom, is employed on shirts and knits using considered techniques – on the leather pieces it is laser cut and bonded. Another print cites global destinations, paying tribute to the constant Vuitton journey. An 'Aloha' motif, part of a circular graphic, provides a moment of optimism and light relief, yet its implementation is meticulous – it is embroidered, laser-cut and knitted, as well as printed.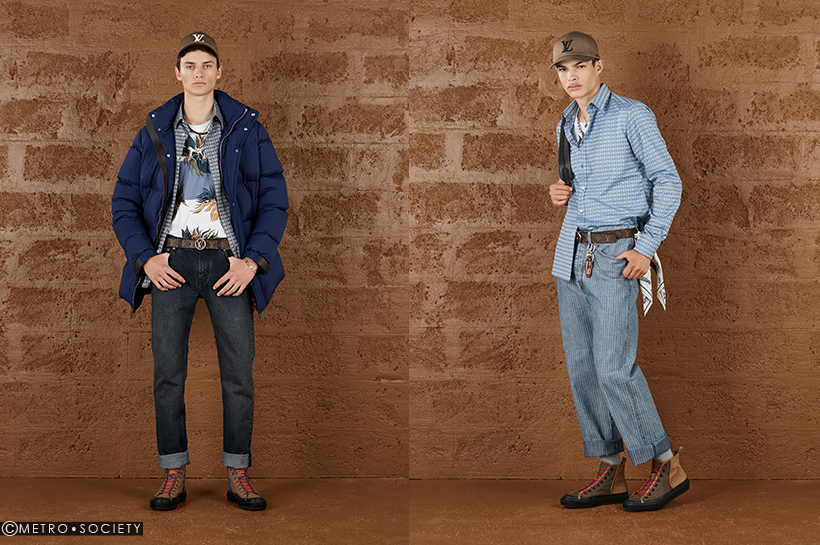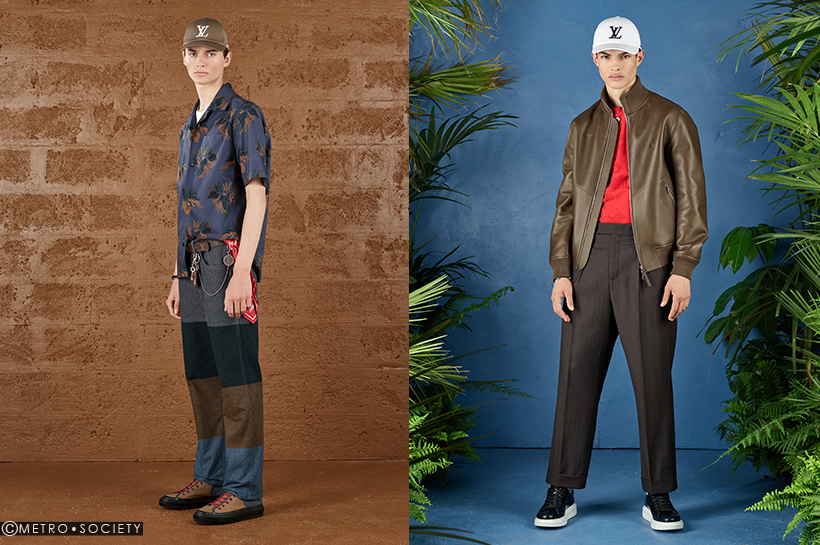 Layering remains central. A casual ease is paramount - trousers are cut for a roomier fit. A feeling of active-wear comes both through reversible outerwear in classic outdoor silhouettes such as padded blousons and fleeces. A reversible leather bomber, a new Vuitton icon, showcases this technique of Vuitton's heritage of leather expertise. New belts see the Louis Vuitton circle signature employed for the first time as a buckle across two canvases, each with a different finishing.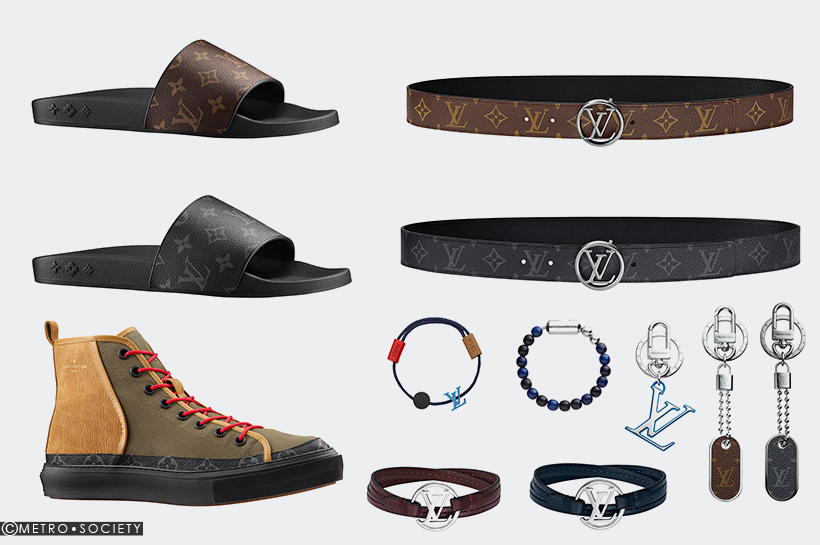 For footwear, both the beach and the mountains are catered to. A new Monogram slider suits the former, while a high-top, patchwork sneaker, an update on a traditional hiking boot, suggests the latter. For a more formal take, a refined, leather glazed sneaker, with a smart white sole. Fancy jewellery and key chains are cheerful and play on Hawaii spirit and skate signatures. The infamous American roadtrip that precedes any great journey is referenced through new interpretations of classic American sportswear.